Celebrate New Year with some BlackBerry Apps
So the new year is almost here and everybody is celebrating and partying to end the year that went by and to welcome the coming year.
Here are some BlackBerry apps for you to enjoy this new year.

New Year match up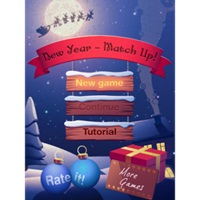 This Holiday Season enjoy this Memory Match Up game for your phone. This app will set the right Christmas and New Year tone for you, and the game-play is great for users of all ages. Staying attentive and concentrated is the key here.
Snap me New Year 2012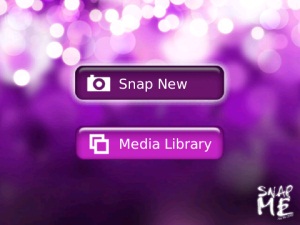 Dress your New Year photos in style with one of our chic SnapME frames, and spread your holiday cheer!!! Sharing on Facebook automatically enters you into the contest to score a 3-night get-away at a ME by Meliá resort. Photo with the most "likes" by January 15, 2012 wins the Grand Prize. 10 runner-ups receive 4AM CD's featuring groove mixologists DJ Ani Quinn and DJ Price. Now isn't that an über cool way to start the New Year? Requires BlackBerry Device Software 5.0 or higher.
Gifts for your Social Friends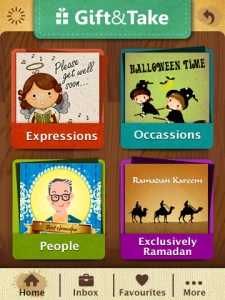 Want to send something special and customized to your loved ones this New Years? Now you need not go out and with an instant click of a button, BlackBerry offers you the chance of being connected through your BBM and sending personalized gifts.
Gift&Take is a mobile gift app platform to send personalized gifts through social media networks such as Facebook and the much awaited BlackBerry Messenger 6 (BBM6) Social platform by Research in Motion. Gift&Take a BBM Connected App enables users to send personalized gifts to their BBM contacts and friends. Friends on BBM will be able to see the wonderful gifts you have received posted on your BBM status. Gift&Take will be one of the earliest apps in the market to support the BBM6 social platform.
Requires BBM 6 to be preinstalled before installing Gift&Take as this is a BBM Connected App.
Gift&Take is released with Free and Premium gifts (paid). Users will be able to send free and sponsored gifts, as well as purchase credits for Premium gifts. Gifts are categorized as Single Send gifts and Multi-Send gifts. Single Send gifts are gifts sent on a one-to-one basis and Multi-Send gifts are sent on a one-to-many basis through Facebook. Multi-Send gifts can be used for sending a birthday party invitation or Ramadan wishes to a group of friends.
Gifts sent will be posted to the recipient's Facebook wall. The recipient and friends can click on the wall to view the personalized gift either on their desktop browsers or from their mobile phone browsers! If the recipient is a Gift&Take user, a copy of the gift will be saved in the recipient's Inbox.
New Year party rainbow lights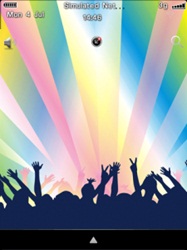 This abstract party theme with rainbow lights will turn your BlackBerry into a dance floor with its colors and feel. The addition of OS 7 icons makes it a must-have theme for your BlackBerry Torch, BlackBerry Bold, BlackBerry Tour and BlackBerry Curve.
New Year party Night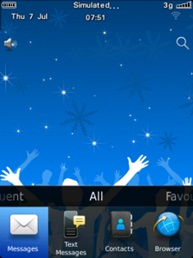 Party's on right on your BlackBerry smartphone's background. This cool blue theme with blue thematic and OS 7 icons is a must have. Get it today.
New Year Count Down – Auto Wallpaper Changer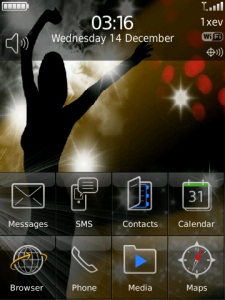 Wallpaper Changer application is developed by MANYA Technologies. This changes background wallpaper within defined time interval.

New Year Count Down – Auto Wallpaper Changer

Beautiful Flowers Wallpaper Changer – is a cute easy-to-use app that changes your background within defined time interval.
Automatic wallpaper changer with a Christmas theme.

10 different Christmas wallpapers.

Set to change randomly.

Set custom intervals for wallpaper changes.

Turn auto-changer on and off.
Animated merry X-mas and New Year 2012 theme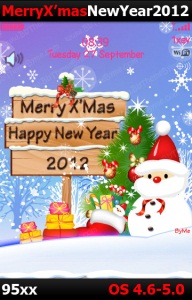 Dreaming of winter time, snow falls, Snowman, Santa and all gifts. Share your wishes and greetings.
Hidden Dock

Factory setting for 9800 os5

Handdraw icon set.

Photo Frame Effect

Background images on all screens.

Color scheme to fit menu colors, highlights, profile popup Fonts.

BYME – Quick link for more and Free stuff
Hindi Songs + Bollywood Music Radios Dhingana Music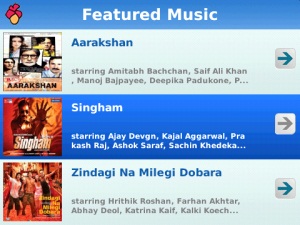 BlackBerry has come up with the latest collection of Bollywood music and Hindi songs which is sure to make you hit the dance floor and tap your feet at every beat. Experience Indian and Bollywood Music from your BlackBerry. Legally listen to 200,000+ songs from 40+ Indian genres like Hindi, Marathi, Tamil, Telugu, Malayalam, Gujarati, Bengali, Punjabi, Pop, Remixes, Bhajans, Ghazals, Devotional, Sanskrit and many more.
Create, Edit & Share your playlists with your Facebook and Twitter friends. Sync your playlists with your Dhingana.com account instantly.

Easy tune into the "Top Songs" from all the different genres from Dhingana.

Search and discover new songs all the time. Search for songs, albums and playlists. Search by actor name, singer, year, song or movie name.

Listen to playlists created by you, your friends or anyone from the Dhingana.com community

Play Dhingana tracks, in the background, while doing other things with your phone.

Highly optimized streaming technology which will allow you to experience quality music over EDGE, 3G and Wifi connections.