Okay so BlackBerry DevCon Europe 2012 just turned interesting as guys at BlackBerry Czech were able to spot and click picture of two new accessories marked as 'TOP SECRET', a Keyboard case and a docking station for BlackBerry PlayBook which were somewhere behind the closed doors of the conference.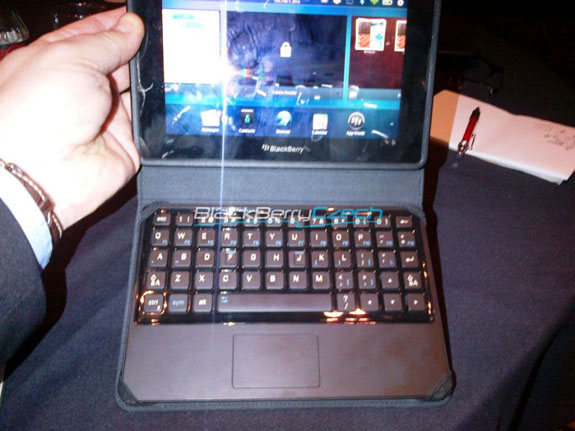 The Keyboard case for the BlackBerry PlayBook is a full QWERTY one with a multi-touch pad for more easy usage over the PlayBook. The case is heavy and a little bulky thanks to the battery which is there to keep the Bluetooth keyboard running for about 30-lond-days on the go.

Coming to the docking station, it connects with the PlayBook via HDMI and also has a LAN port which will allow users to hook up an ethernet connection in case a Wi-Fi connection is unavailable to connect. With this there is a charging connector and three classic USB ports on this dock. Interesting enough!
But what's more interesting? Well BlackBerry Czech says that they were also able to spot the much rumoured 10 inch PlayBook about which we have been hearing for long and since May last year. The source reports that 10 inch tablet was just 2 metres away from them but they were unable to picture it. But the one they saw was a fully functional prototype and not just a dummy.
We wish they could have take even a blurred shot of the device but no issue as we expect an official announcement from RIM with regards to both the accessories and the 10 inch PlayBook at the upcoming Mobile World Congress (MWC) later this month.

Source (Translated)