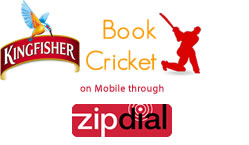 Kingfisher and ZipDial have together launched a Book Cricket Mobile Game which is played using missed calls. The game is developed and promoted by ZipDial, which is a Bangalore-based technology startup that has patented various marketing and engagement services around the simplicity of dialling numbers or ZipDialling.
As we know, in Book Cricket, a player take turns to flip pages of a book and depending on the page number you score runs, or get out. ZipDial has enabled the same game on mobile where the page flipping is replaced with ZipDialling. The game can be played by ZipDialling on 080 300 500 77 and it is toll-free.
 Within the first 24 hours of launch the Kingfisher Book Cricket on ZipDial was played by 2811 unique users, out of which over 60% played again the same day. At the time of reporting the Kingfisher Book Cricket on ZipDial was played a total of 84931 times in about 15 days.
"This cricket season, Kingfisher brings the Good Times to all of India, whether or not they are connected online, and ZipDial is the ideal way to allow all of our customers to experience the Good Times and celebrate cricket in a way that is toll-free and as simple as dialling," said Samar Sheikhawat, the Senior Vice President of Marketing for United Breweries Ltd.  "We have been very happy with the participation from customers and the rate of growth of Kingfisher ZipDial Book Cricket."