After releasing Android 7.0 Nougat in August last year, Google released the 7.1.1 Nougat in December. The 7.1.1 Nougat update brought along a cool feature called App Shortcuts which is similar to Apple's 3D Touch. While Google's apps like Gmail already support App Shortcuts, the latest update now shows more options when you long-press the Gmail app icon.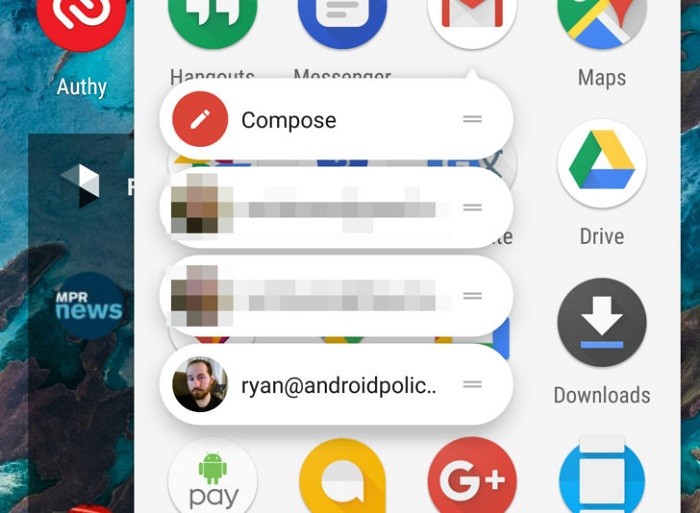 This update which comes with version 7.2 adds more app shortcuts to Gmail. Initially, when you long-pressed on the Gmail app icon, you were only showed the Compose shortcut. However, now with the new update, you see three more shortcuts in addition to the Compose shortcut. These three shortcuts are nothing else but shortcuts to your email accounts.
Whenever you long-press the Gmail app icon, you will be shown shortcuts to the three email accounts that you last used. Well, this is very much handy if you want to quickly jump to the inbox of your most used email account. You can also drag and pin that shortcut on your  homescreen if you don't like to long-press the app icon every time. Well, you can only use this feature if you have a smartphone running Android 7.1 Nougat or above.
Apart from this, Google has also rolled support for Exchange Tasks in Gmail for Android. With this, your tasks will be synced with Exchange and you will be create a task, edit it or mark as done. "With a unified tasks list, we've made it easy for you to focus on your important tasks and check things off the list once you're done. The simple swipe to mark as complete can be just as rewarding." said Janice Wong, Product Manager, Google.
This new version of Gmail is available on the Play Store, so you can update the app if you want to try these new features.
Also Read: How To Get Android Nougat App Shortcuts On Your Smartphone [Guide]