New renders of Google's next flagship, the Google Pixel 2 have surfaced showing a near bezel-less screen much like the LG G6. Th renders are pretty small, so we can't make out the small design changes. Although we can point out the bigger more evident ones.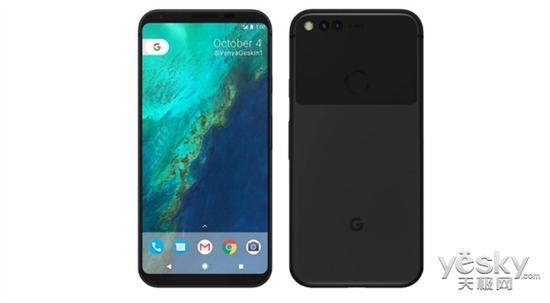 Right off the bat, we can see the similarity of the back with last year's Google Pixel. The unique glass covered upper area of the back will make its way to the Google Pixel 2 as well. Noticeably, there is are dual camera sensors at the back. Many OEMs are introducing dual cameras for their flagship devices. And by October, when the Google Pixel 2 is set to release, We will see the OnePlus 5 and even the Galaxy Note 8 come with the dual camera system. So it would be reasonable for Google to do the same.
Another talking point of the render is the front bezel-less screen. Though it looks beautiful, it could equally be a concept design by a fan. one thing to point out, Google has never followed a single design language for its smartphones. Not in the Nexus lineup. Not in the Pixel lineup. So, these renders might be fake. But then again, the Google Pixel is the first phone designed by Google so it might carry forward the same design. Either way, it is too early to say anything regarding these new renders.
The leak also suggests the Google Pixel 2 to be carrying a Snapdragon 836. The Snapdragon 836 is at the moment just a rumor and not even a real chip. It is also expected that the device might come with a 16-megapixel rear camera, paired with an 8-megapixel selfie camera. As said earlier, these are very early leaks, so take them with a pinch of salt.