With the increasing rumours that we could see the next flagship smartphone from Samsung in early 2014, the first leaks of the alleged device parts have started flowing out.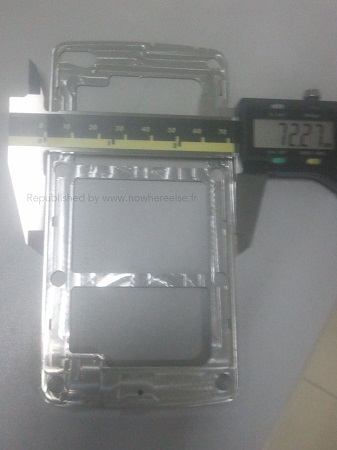 A new image which leaked today claims to be the metal frame for the Samsung Galaxy S5. While the frame doesn't reveal any design aspects of the flagship phone, it does seem to be bigger than the Galaxy S4. The frame measures 5.66 inch in height and 2.8 inch in width. Comparing this measurements with the Galaxy S4, we can expect a 5.3 inch display on the upcoming flagship.
However, the camera opening in this frame is right up in the corner, which is quite contrary to Samsung's placement in the middle. Similarly the USB port opening doesn't seem to be big enough to flaunt the USB 3.0, seen in the Galaxy Note 3 and would definitely be there in the Galaxy S5. Considering these contradictions it is a bit too early to say whether the frame in the picture is the real thing.