Samsung Galaxy S4 and Note 3 may receive Android KitKat v4.4 update in January 2014
While most of the Samsung flagship device have received the Android v4.3 update, new reports suggest that the Android v4.4 KitKat update may be coming sooner than expected.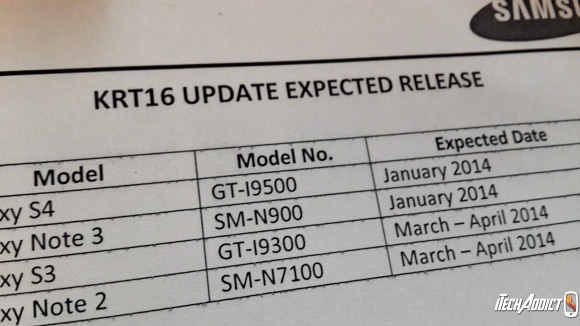 According to a leaked Samsung document, the flagship devices of the company would start receiving the Android v4.4 KitKat update starting from January 2014. The document suggests that the international version of the Galaxy S4 and the Galaxy Note 3 would receive the update first, in January 2014.
Also in line for the Android v4.4 KitKat update are the Galaxy S3 and the Galaxy Note 2, which would supposedly receive the update in March – April 2014 period. Considering that Samsung is still rolling out the Android v4.3 update, it is surprising that it has plans to roll out the latest Android update so soon. This could also mean that Samsung is prepared with its next flagship device, which may launch as earlier rumoured in January 2014.