The Chinese internet and technology conglomerate, LeEco has brought their Super TVs to India which stormed the Indian television market. LeEco unveils exciting offers for its upcoming flash sale on 26th August. For this much anticipated flash sale, LeEco has come up with offers that can be availed on both LeMall.com and Flipkart. Now get ₹5,000 cashback on HDFC Bank Debit/Credit cards on LeMall.com and on Citibank Debit/Credit cards on Flipkart when purchasing LeEco Super TVs.

LeEco SuperTV offer will also include free shipping and installation during its first flash sale. Furthermore, the offer also enlists its 'No EMI cost' options for the buyers who purchase from LeMall.con and Flipkart. They also have as much as 4 years of hazzle-free warranty.
LeEco received incredible responses from its users for its Super3 TV series breaking the record by getting 10,000 SuperTV registrations in just one day. These registrations were done on both  Flipkart as well as LeMall.com. The key factor is the price per feature, LeEco SuperTVs offer much more than what the current SmartTVs offer.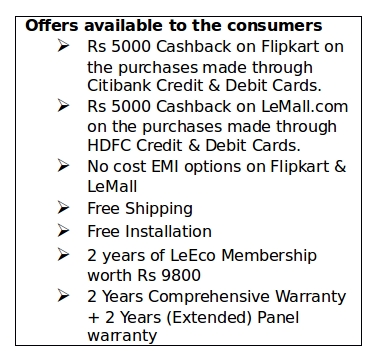 LeEco Ecosystem has one of the world's largest content libraries, comprising of movies, TV shows, music, sports, and other entertainment. The Super TVs are equipped with LeEco's renowned Ecosystem comprising of its content-viewing apps like LeVidi, LeLIVE and LeView, and other tailor-made apps like Panosearch that shows you the latest trending happening.
LeEco Super3 TV series comes with LeEco Membership worth ₹9,800 for 2 years. The membership includes the over 2000 Full HD/HD films from Hollywood and Bollywood movies, 100+ Live TV channels, TV shows, and more than 50 live concerts on LeEco ecosystem. Moreover, the ecosystem is also entitled for its 3.5 million songs (coming soon by software upgrade).
LeEco has also made its space into the smartphone market with their brilliant Superphones LeEco Le 1S, LeEco Le Max, LeEco Le 2 and LeEco Le Max 2. Their smartphones plays an important role in the LeEco's ecosystem which can be further connected to TV for a complete entertainment experience.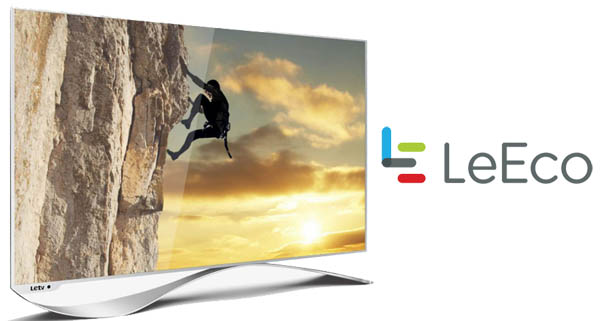 LeEco's Super TV – Super3 X55, Super3 X65 and Super3 Max65 boasts 4K Ultra HD display ensuring a crystal-clear viewing experience. Further specifications include a 1.4 GHz quad-core Cortex-A17 CPU, a quad-core Mali-T760 MP4 GPU, 2.1 channels Stereo with 7 speakers, Dolby Audio and DTS Premium Sound, Dual-band Wi-Fi, Bluetooth 4.0. The TV is based on EUI 5.5 on Android 5.0 Lollipop. Here are the prices of these three SuperTVs from LeEco.
LeEco Super3 X55 – (55-inch TV) is pirced at ₹59,790
LeEco Super3 X65 – (65-inch TV) is priced at ₹99,790
while the flagship TV or known to be the best LeEco TV
LeEco Super3 Max65 – (65-inch TV) is priced at ₹1,49,790.
Here are the registration details to avail the offer:

So, if in case you have missed LeEco SuperTVs registration, here's the chance to grab the SuperTVs with these exiting offers in its pre-sale. Reregistrations are open and will close on 26th August by 11:00 AM before the flash sale starts.