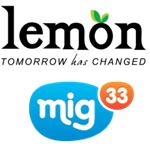 Lemon Mobiles today announced its partnership with mig33, the world's largest mobile community. Under the agreement, Lemon Mobiles will pre-install mig33 on all its new Internet-enabled mobile devices.
mig33 is a global mobile community that provides chat and social entertainment services to more than 40 million registered members worldwide. Reaching into 200 countries the various options available are member chat, photo sharing, sending virtual gifts, play games, post on each others profiles, join groups, create avatars and much more.
India is one of mig33's fastest growing markets. In 2009, mig33 partnered with five of the eight Indian Premier League cricket teams, to develop and introduce mobile fan clubs for millions of supporters. Celebrities like Preity Zinta, Rahul Dravid, Adam Gilchrist, Glenn McGrath used this mig33 mobile chat platform to connect with many of their fans around the world.
"As a leading mobile handset brand in India, Lemon Mobiles is committed to delivering the most relevant and popular applications, which are affordable, simple and easy to use. We believe in changing the mobile experience of our customers and hence to keep them socially connected we have collaborated with mig33 which has a long track record of success in mobile-first markets including India. We further hope this partnership will enliven our customer aspirations," said Rohit Arora, Head Product – Device & Services, Fastrack Communications Pvt. Ltd.
Mohit Gundecha, Director of Business Development for mig33 said "India has enormous growth potential and we're excited to be working with our new partner Lemon Mobiles. This partnership will help us grow our mobile community in India, as we deliver our chat and social entertainment services to wide set of mobile devices."