Lenovo has along with the stellar Vibe Z, revealed 3 other smartphones, all of which seemed aimed at the mid-range smartphone category. The S930, S650 and A859 smartphones give you a variety of phones with features to choose from.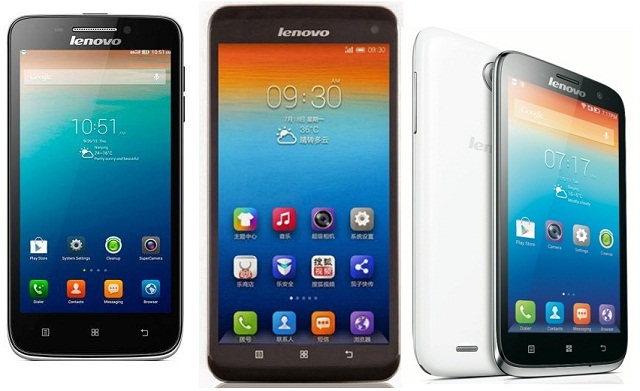 The Lenovo S930 smartphone is aimed at people who love to listen to music or to watch videos on their smartphones as it comes armed with twin Dolby Digital Plus speakers and directional 3D sensors that make videos come alive on your screen, while the Lenovo S650 is aimed at people who wouldn't go for its 6-inch cousin. The Lenovo S930 and Lenovo S650 share looks with the Vibe Z smartphone and come with a silverized, laser-etched body. The S930 boasts of a 6-inch 1280 x 720p screen, while the S650 comes with a smaller 4.7-inch gHD screen with a resolution of 920 X 540p display. Both run on the MediaTek Quad Core processor and Android 4.2 and are dual-SIM devices. Another feature is the 8-megapixel rear cam and 8 GB inbuilt storage.
The A859, on the other hand comes with a 5-inch 1280 x 720p screen, it comes with a Mediatek 6582 processor and Android 4.2 and just like the S series phones, it comes with an 8-megapixel camera and 8 GB storage.
As for the pricing the S930 is priced at  $319, the S650 at $229 and A859 with all becoming available worldwide soon.
Lenovo S930 specs
6-inch 1280 x 720p screen
MediaTek Quad Core processor
Android 4.2
dual-SIM capability
8-megapixel rear cam
8 GB inbuilt storage
Lenovo S650 specs
4.7-inch 920 X 540p gHD display
MediaTek Quad Core processor
Android 4.2
dual-SIM capability
8-megapixel rear cams
8 GB inbuilt storage
Lenovo A859 specs
5-inch 1280 x 720p screen
Mediatek 6582 processor
Android 4.2
dual-SIM capability
8-megapixel rear cam
8 GB inbuilt storage