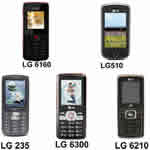 LG Mobiles has launched six open market CDMA phones in India. Lately we have seen CDMA operators offering a very competitive tarrif plan, infact players like MTS have gone ahead than GSM operators by offering 1/2 paise/sec calling tariff. One thing which CDMA platform lacks is the availibility of good handsets. The newly launched CDMA handsets of LG allow users to choose any CDMA provider just like in the case of GSM phones. The phones introduced by the brand include: LG 6160, LG 6210, LG 6300, LG 6400, LG 510 and LG 235.
OMH technology has provided equality across CDMA and GSM in terms of operator selection and upgrade flexibility. So, if you are looking for a phone that suits your personality and meet all your technical needs, then the LG brings along a couple of options.
LG6160
A compact & sleek phone which has MP3 player with 3.5mm jack, FM Radio with recording, Torch, Upto 4GB expandable memory, Bluetooth, Hindi language support & a long battery life. This phone is priced at Rs. 2,649.
LG6210
This multimedia phone packs in FM radio with recording, VGA camera with video recording, MP3 player with preset equalizers, Bluetooth, upto 4GB expandable memory. Some of the other features of the phone include FM sleep Timer which helps user to set FM to be auto-switched off after 15, 30 or 60 mins( based on the time set, FM will automatically be switched off), FM & MP3 playlist which can be played in the background while the user is experiencing some other feature in the phone, helpful tools such as City Distance Calculator, BMI (Body Mass Index) calculator, EMI calculator & Panchang. This phone has been launched in the Buzz category of LG Mobile phones & is priced at Rs. 2,999.
LG6300
A music phone with features like 2.1 channel active sub-woofer and side-stereo speakers. It also has a 2MP camera, MP3 player, Wireless FM with recording & editing and Bluetooth. This phone is priced at Rs. 4,749
LG6400
This phone comes with 1.3MP camera and video recording, Wireless FM with FM recording, MP3 player with 3.5mm jack, Big Screen (5.08cm), Upto 4GB expandable memory, Bluetooth & Built-in modem. Apart from this, the phone offers Hinglish support & a great battery life. The phone is priced at Rs 4,425.
Cookie Zip (LG510)
Get the new LG Cookie Zip CDMA phone and experience the thrill of watching videos online and 24×7 with its internet access technology. See all the action come alive on its 7.6 cm wide WVGA full touch screen. Also enjoy the experience of full internet browsing and One Touch Social Networking on the go. Cookie Zip is priced at Rs. 8,000.
Cookie Spark (LG235)
LG Cookie Glide comes with 5 MP camera and One Touch SNS update. This phone also has wifi connectivity and is priced at Rs. 5,898.