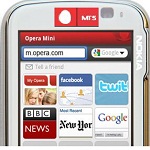 Opera Software and MTS, the mobile telephony services brand of Sistema Shyam TeleServices Limited (SSTL), have signed an agreement that would enable MTS customers to download Opera Mini on a range of mobile phone models from handset manufacturers such as Samsung, ZTE, Haier, Huawei, Micromax and Hisense.
MTS customers can now directly download Opera Mini browser by browsing through MY MTS ZONE on their compatible handsets. This is a good move considering Opera is widely used in mobile phones all over the world, as the page loads faster on Opera Mini because of its compression technology which also helps reducing data consumption.
Earlier this year, MTS Russia announced a co-branded version of the Opera Mini browser for its subscribers. Subscribers receive access to a customized Opera Mini start page when they downloaded the browser on their mobile phones. The start page with default bookmarks gives quick and easy access to music, videos and games, as well as the opportunity to purchase content directly from the browser.
Following is the access path to download Opera Mini browser on your MTS mobile:
MY MTS > Mobile Shop > Opera Mini Browser