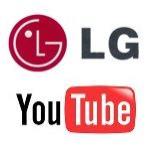 LG and YouTube have been collaborated to bring the first ever 3D experience to internet. With the launch of LG Optimus 3D in MWC at Barcelona , LG has decided to push the 3D content beyond their devices and bring the same experience to YouTube. This smartphone is not only capable of capturing and viewing 3D videos but also share them with your friends via YouTube and that too without glasses. 
This partnership has bring new ways to push the 3D video community online.

LG Optimus 3D is powered with a dual memory , dual core and dual channel and this 

Android-powered device will be available globally starting in Europe early in the second quarter of 2011.