LG launches the Optimus 3D Max in Europe
LG has launched the Optimus 3D Max which was announced back at the Mobile World Congress 2012 in Europe. The successor to the Optimus 3D, this second-generation 3D smartphone boasts an enhanced chipset and more enticing 3D entertainment.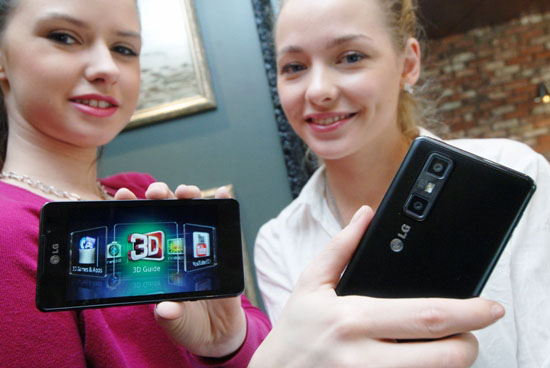 The Optimus 3D Max includes a new 3D Converter which allows for a greater variety of 3D content as it converts 2D content from Google Earth, Google Maps and other mapping apps into 3D. It also has a 3D Hot Key mounted on the side of the phone which enables users to easily toggle between 2D and 3D.

Additional features, which will be available through an upcoming maintenance release (MR), include a HD Converter to offer high resolution content to be viewed on a TV connected through MHL (Mobile High-Definition Link) and Range Finder, which calculates the distance between the camera and a subject as well as the dimensions of an object through triangulation.
The Optimus 3D Max is measures at 9.6 mm in thickness and weighs at 148g. The 5MP camera on the rear captures both photos and video in 3D using its dual lenses. The recorded material can be viewed directly on the smartphone in glasses-free 3D or on a 3D capable computer monitor or TV.
Chipset: 1.2GHz Dual-Core processor (OMAP4430)

Display: 4.3-inch 3D WVGA Display with Corning Gorilla Glass 2

Memory: 8GB Internal Storage, 1GB Internal Memory, Micro SD support

(up to 32GB)

Camera: 2 x 5MP rear-facing, VGA front-facing

OS: Android 2.3 Gingerbread

Battery: 1,520 mAh

Others: HSPA + 21Mbps

HDMI connection 2D/3D TV/monitor up to 1080p via MHL

DNLA for wireless connection with TV/PC (3D video also supported)

NFC Full Support, LG Tag+