LG launches Watch Phone in India at Rs. 49,990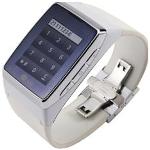 LG has laucnhed its 'much talked about' Watch Phone in India.  It is the first touch watch phone in the world to feature 7.2 Mbps 3G HSDPA compatibility, enabling high-speed data transmission and video phone calls using the built-in camera. It comes with a hefty price tag of Rs. 49,990

The Watch Phone has a curved tempered glass face, high quality metal casing and is a mere 13.9mm thick. It also packs in 3G Video Telephony (VT) service and GSM Network capabilities.