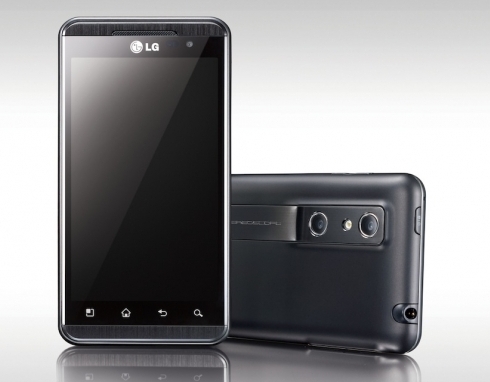 LG Electronics has officially launched the LG Optimus 3D. The new smartphone features a second generation dual core technology and an advanced Tri-Dual architecture – dual-core, dual-channel and dual-memory – which allows for improved performance when multi-tasking, enjoying a movie or playing graphics-intensive games. The LG Optimus 3D offers a full 3D experience in the smart phone package.
LG's full 3D concept transforms 3D technology from a novelty to a practical tool. 3D recording, viewing and sharing is faster and more convenient in the Optimus 3D and can be enjoyed without cumbersome glasses. LG's latest smart phone enables owners to capture high quality 3D content with 3D video stabilization technology and real-time misalignment correction algorithm which automatically corrects for shake during recording. And the smart phone's wide viewing angle makes watching videos and movies much more convenient and comfortable.
"Tri-Dual architecture opens up a whole new world in smart phone performance," said Dr. Jong-seok Park, President and CEO of LG Mobile Communications Company. "As the latest offering in our Optimus line-up, we expect there will be significant interest from those who seek the very latest in smart phone technology and are excited about 3D as the next big frontier in mobile devices."
The LG Optimus 3D also incorporates the world's first 3D augmented reality (AR) browser in collaboration with AR pioneer Wikitude. The browser will be available through an app downloadable from LGWorld.
Here are the specifications and features of LG Optimus 3D:
1GHz Dual-Core Dual-Channel Texas Instruments processor OMAP4

Glasses-free 3D 4.3-inch WVGA (800 × 480) touch screen display

8GB of memory and 4GB of DDR2 memory LP

5MP dual-lens camera

3D: 720p recording and playback H.264 SEI

2D: MPEG-4/H.264 1080p recording and playback

HSPA+

DLNA

HDMI 1.4 ports

Supports video formats: H.264, H.263, DivX, MKV, WMV-9, ASF, AVI, 3GP, MP4

Google's Android operating system 2.2 Froyo

1.500 mAh battery