LG will be selling all new Optimus Smart Phones with Angry Birds Rio Pre-installed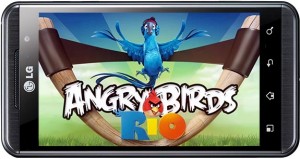 LG has tied-up with Fox Digital Entertainment and Rovio Mobile to pre-load Angry Birds Rio on all LG Optimus Series smart phones. The Angry Birds Rio equipped Optimus smart phones will arrive in Q2, as said by LG.
"We're excited to bring one of the most successful mobile games to our customers," said Yong-seok Jang, Vice President of Business Strategy at LG Electronics' Mobile Communications Company. "Angry Birds Rio will help showcase the power, smoothness and speed of LG's Optimus series of Android smartphones to our customers."
The level for the month of May is also going to be updated soon, and surely fans of Angry Birds are anticipating more excitement.