While the LINE messenger has been gaining popularity in India, the company is adopting aggressive measures to increase the usage in the country.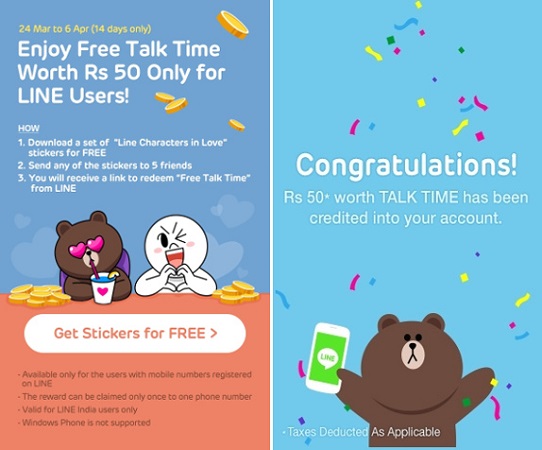 LINE Corporation, which is known for the popular LINE instant messenger app, is offering its users in India free talk time of Rs. 50. However to get the free talk time, user will have to download the LINE characters in the Love sticker pack and then send these stickers to at least 5 other users in their contact list.
You can then automatically redeem the free talk time worth Rs. 50. However, this offer is limited to Indian users whose mobile number is registered on LINE. The offer is valid from 24 March to 6 April. Also you can claim the offer only once using the mobile number.
Speaking about the new offer, Daman Soni, Head of India Business Development, LINE, said, "LINE is well on its way to becoming the most preferred social communications application in India. The download numbers are on a constant upsurge and are engaging with a far greater number of users now. We are passionate about conversations and introducing Free Talk Time (FTT) would give LINE users another reason to connect with friends."