Microsoft gave a blow to all the current Windows Phone 7.5 running

smartphone

owners by announcing that the

smartphones

will not get the next generation of Windows Phone OS due to various reasons.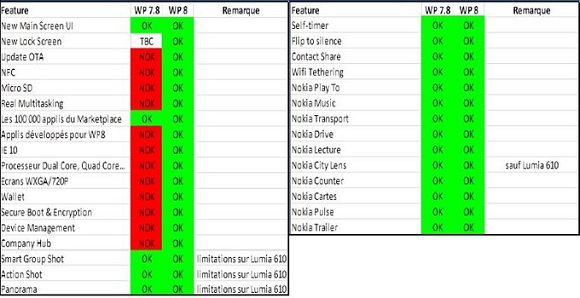 But these

smartphones

will only be upgraded to Windows Phone 7.8 bringing in limited changes and features of the new Windows Phone 8 OS due to hardware limitations and other unknown reasons.

But if you wish to know which are the features that are arriving with Windows Phone 8 and have been left in the Windows Phone 7.8 OS then a list which is probably a snippet from an internal presentation has popped up online giving us an insight into it.

Left out of the Windows Phone 7.8 upgrade are features like Over-The-Air upgrade, NFC, real multitasking which was showcased on WP8, Internet Explorer 10, Company Hub, Secure Boot and Encryption,

microSD

card support and more.

But then the upgrade will bring in the new

resizable

Live Tiles Home screen, Camera improvements and

Wi

-Fi tethering to the older Windows Phone 7.5 running devices.

We do know that if you own a Windows Phone 7.5 running

smartphone

you are disappointed with the limited list, but then at least Microsoft is bringing these to your device.