Windows Phone had only 2.7% market share in Q2 2012, bada sold more
As the results from various research firms are flowing in as they all calculate the total sales estimates from the previous quarter, Garter has released its data for the Q2 2012

smartphone

sales report.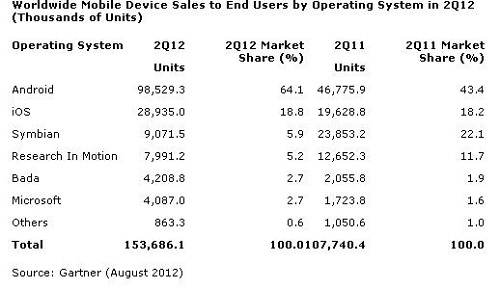 This report from Garter indicates that the

smartphone

sales worldwide declined by 2.3 percent and Windows Phone OS just managed to capture just 2.7% of the market share with Android leading the front with 64.1% of .

According to the report more a little over 4.08 million Windows Phone running

smartphones

were sold in the last quarter which is up from 1.7 million which were sold same quarter last year.

iOS

has about 18.8 of the total market share where as Symbian is still at No. 3 spot with 5.9% share. RIM is trailing behind it with 5.2% devices running on the BlackBerry OS. But one interesting thing to note is that Samsung's homegrown

bada

OS still has 2.7% of the total market share which is same as that of the Windows Phone OS but sold more devices compared to it with the figures indicating 4.28 million devices.

This is indeed a sure cause of worry for both Microsoft and also Nokia as both have

bet

loads of cash

on

the partnership and are yet to see a great return. But with Windows Phone 8 OS arriving very soon, we hope people are able to switch to the new OS skipping Android and

iOS

for a change.

Which OS are you using currently? Do let us know in the comments section below.