Loop Mobile offers Free inter-calling and SMS for lifetime, with no additional charge
Before I share the story, let me inform you that you will jump with joy if you are a Loop Mobile subscribers because Loop Mobile has come up with something really exciting, which I haven't seen in the Telecom Industry as yet.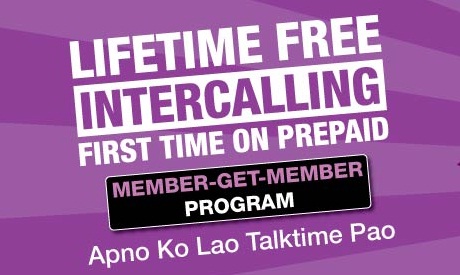 Loop Mobile has announced a new offer for its existing Prepaid subscribers base. This new offer will allow Free inter calling and SMS between Loop Mobile Subscribers for lifetime. Sounds awesome, isn't it?

So now the question is how can you avail this offers?
-To avail it all you need to do is refer as many people as you can to buy a Loop Mobile connection.Each new referred subscriber would have to get a -special 'Member Get Member simcard' and do a one time recharge with Rs. 94.
-The new subscriber would have to share the unique code on the application form and send an SMS to his referrer.
-Post which, the referrer/existing subscriber would have to do either of the following:
SMS – CUG <NEW SUBSCRIBER MSISDN><NEW SUBSCRIBER UNIQUE CODE> TO 5050

DIAL – *131# AND FOLLOW THE INSTRUCTIONS
-The lifetime offer (free call and SMS) within the group will be activated within 24hours.
Wait, there is more. Loop mobile's existing subscribers (the referrers) can earn 10% extra talk time based on every new subscriber's recharge for 1 year. Additionally new subscriber can get free talk time 15% extra on every top-up recharge done for a period of 1 year.

Tariff Details: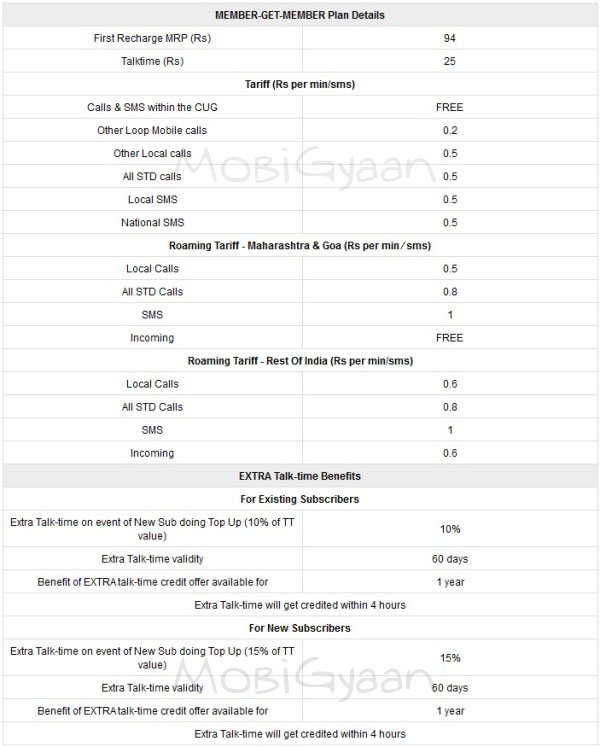 It's been such a long time that I have seen something so exciting in Telecom Industry. This offer left me Speechless! Great job by the people at Loop Mobile.
Lastly, those who are thinking that there must some limit on the number of people you can refer, well there is none. Refer as many people as you can if you want free calling and SMS.