Loop Mobile offers Push Mail and Video Download service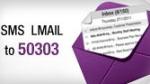 Loop Mobile expanded its portfolio of Value added Service with the launch of two new services – Loop Mobile Mail and Loop Mobile Video. With Loop Mobile mail subscribers can send and receive emails on their mobile in the form of SMS without the need to have GPRS, whereas Loop Mobile Videos offers multiple genre videos downloads.
Using Loop Mobile Mail service, a subscriber can compose, reply and forward e-mails from the handset using the SMS option. A subscriber's mobile number by default becomes an email id. For eg:9821XXXXXX@loopmail.in. To use this service Loop Mobile subscribers need to send a message LMAIL to 50303. Loop Mobile is offering this service to both its Prepaid and Postpaid users for free for one year.
Keywords that will help you Send/Receive Emails using your SMS Inbox:

Functionality

Keyword

How to use

To compose a new mail

NEW to 50303

New <recipients mail id> s:<subject> b:hi, let's meet up

To reply back to




sender of the mail

REPLY to 50303

Reply <msg id> <UR Reply>




e.g. Reply 04 ok, I will attend

To reply back to the sender &




all the recipients of the mail

REPLY A to 50303

Reply a <msg id> <UR Reply>




e.g. Reply a 04 ok, I will attend

To read more of the




message received

READ to 50303

Read <msg id> <part no> e.g Read 04 2

To forward mail to anyone

FWD to 50303

Fwd <msg id> <recipients mail id> <content>




e.g. Fwd 04 test.gmail.com hi,




check this invitation

If password is forgotten, sending 'Password' will resend a new password for easy access

PASSWORD to 50303

SMS Password to 50303>
To receive Emails from your Gmail, Hotmail accounts in your SMS Inbox, you set the auto-forwarding option from your current Email ID to the Loop Mobile Mail ID.

For Emails where you receive attachments, you will receive a link in the SMS using which the attachment can be viewed. Please note the attachment viewing feature is available for only GPRS enabled devices.

To Unsubscribe SMS UNSUBMAIL to 50303
The other service Loop Mobile Videos is also available to both Prepaid and Postpaid Loop Mobile subscribers. For using this service users will not be charged any rental but subscribers need to pay 10p for each video they download. To use this service subscribers need to send a SMS – VIDEOS to 50800 (toll free) or visit WAP URL http://atcafe.loopmobile.in