The past few weeks have been just great for the makers of Instagram. They released the popular app over Android platform, crossed 5 million downloads in less than a week, got bought by Facebook for $1 billion and still remain independent. But with all the popularity there are some who wish in taking advantage of it.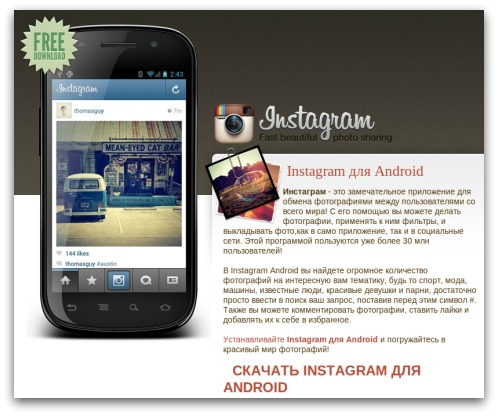 And this time, cybercriminals are taking advantage of Instagram's popularity. A Russian website is said to be offering the popular Instagram app for download (as you can see above), but hey the app is full of malware coding.

The app packs in genuine looking Instagram's logo and design. But once you install this fake Instagram app onto your mobile, then you run a risk of losing some of your valuable cash as the app seems to be relying in the sending of background SMS messages to earn its creators revenue. 
 
Now how could you save yourself from such a malware affected app? It's Simple! Just DO NOT download any app from unknown sources. Only download the apps you trust from Google Play Market and give access to the app.