When it comes to Android vs. iOS debate, fanboys from both the camps pull out their guns to take down the guy from another camp. It's a debate which will never come to an end as both the operating systems have their own set of pros and cons. The number of devices running on Android OS is so high that Google has started to worry about the increasing fragmentation. However, when it comes to iOS, there are few devices (of course Apple's) which run on iOS as it is Apple's proprietary operating system.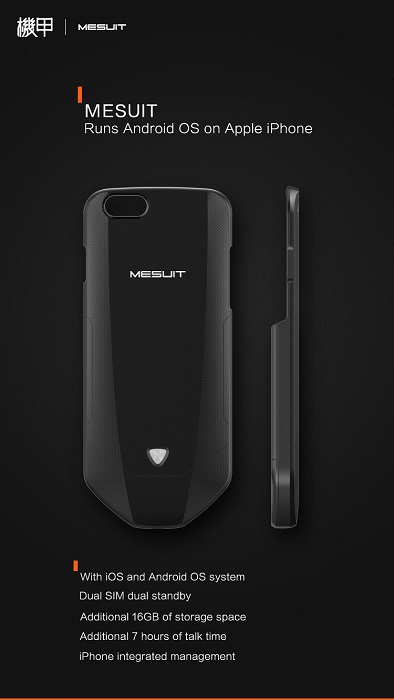 If you are the one who owns an iPhone and dreamed of watching it run on Android, your dream has come true. Haimawan, a China based mobile OS virtualization company has come up with an iPhone case which will let you run Android OS on iPhone. Yes, that's for real. We are not kidding.
The MESUIT case supports iPhone 6, 6s, 6 Plus and 6s Plus. The best thing is that you can run Android and iOS simultaneously on your iPhone using this case. The case connects with mentioned iPhone via lightning port. The Android OS will run as an app on iOS though.
The MESUIT case also comes with a nano SIM slot along with 16 GB of storage. There are two different cases offered by Haimawan, one for iPhone 6 and 6s, whereas, the other for iPhone 6 Plus and 6s Plus. Both these cases come with battery as well providing extra backup to the iPhone. The MESUIT case for iPhone 6/6s comes with a 1700 mAh battery whereas the one for iPhone 6 Plus and 6s Plus comes with 2500 mAh battery.
The MESUIT case can be purchased from Haimawan's subsidiary Jijia's website. The MESUIT case for iPhone 6 and 6s is priced at ¥999 (around $150/₹10,000), whereas, the MESUIT case for iPhone 6 Plus and 6s Plus will cost you ¥1099 (around $165/₹11,000).
As of now, there's no information about the availability of MESUIT case outside of China. But, even if it's available, will you buy it?