While everyone is quite eager to get their hands on the Reliance Jio SIM to avail the Jio Preview offer, Reliance Jio has currently opened the offer to just Samsung and a few other handsets. However, a bug discovered in the My Jio app, allows anyone to sign up for the offer.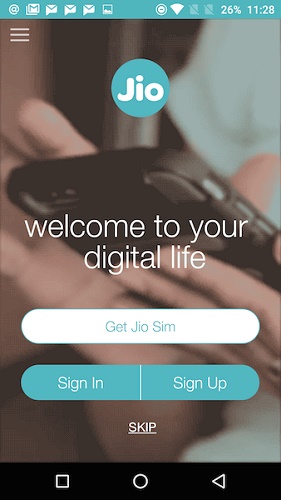 According to sources, a small bug in the My Jio app allows any smartphone (literally any) user to generate the coupon code required to be presented at the Reliance Digital store to avail a Jio SIM card. However, we are not very sure if the store does except the code generated through this method.
Step 1: Uninstall My Jio and other Jio apps if you have previously installed them
Step 2: Download the My Jio app again.
Step 3: Click on Install All button to download all the 10 Jio apps. Exit the My Jio app
Step 4: Disconnect your Wi-Fi and Mobile data.
Step 5: Open My Jio app, and click on "Open" next to My Jio. It'd be throwing "No internet connection" error on top, but don't care about it. It opens the Login screen, and there you'd see the Get Jio SIM button.
Step 6: Click on it, and it'd throw an error about internet not being available. At this point, switch back your Wi-Fi and tap back to go to the login screen again.
Step 7: Now click on Get Jio SIM button and boom! It will show the preview offer screen and lets you generate the activation/offer code.
You can now present this code at your near Reliance Digital store along with a photograph, an ID proof and an address proof to avail your Jio SIM card.
[Update:] Reliance Jio has updated the My Jio app and rectified the above bug.