Local manufacturers have always been quite notorious when it comes to Android updates so we were pleasantly surprised when a recent leak from @MMXNewscaster suggested that eleven devices from the Micromax Canvas series of Android smartphones will be getting the Android 4.4 Kitkat update but the leak did not specify any time frame for the update. Well we have our sources telling that the Android 4.4 KitKat update won't make it to the Canvas devices anytime soon.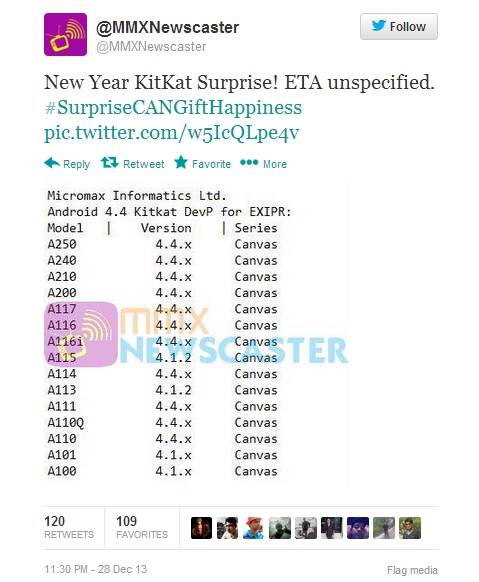 The reason behind this is Mediatek, the maker of the chipsets inside most of the Micromax devices. Well you must be thinking how is Mediatek responsible for the delay in updates? We will tell you. In the process of Android updates what happens is that once Google announced the new Android version, the source code and stuff then reaches out to the chip makers who then make the new Android version compatible with their newer chipsets and their older ones as well. When the new Android version is stable and compatible they hand over the code to the handset manufacturers to decide if they want to update or not and in case they want to, they go ahead and add their own customization like Samsung adds it TouchWiz layer while Micromax makes some minor changes and adds some of its apps. Only after this process the roll out to the consumer begins.
So coming back to the Android 4.4 KitKat update not coming to Micromax devices anytime soon, our sources in the industry tell us that Mediatek is yet to make Android 4.4 KitKat compatible with the chipsets which these devices are using so in case you are waiting for the KitKat update on your Canvas device, we are sorry to tell you that the update won't make it anytime soon. Only one device in the list of eleven devices features Qualcomm processor that is the Micromax A111 Canvas Doodle while the rest feature Mediatek's chipsets.
One other interesting aspect to this whole thing is that, there are many Indian manufactures using the same chipset model on which these 11 Micromax smartphones are running. So, if Micromax can bring the 4.4 update to it certain canvas series smartphones then other manufactures running on same chipsets can also do it.
So when can you expect the update, our sources tell us not until mid-2014.