The Samsung Galaxy NotePRO wasn't the only tablet the company announced at CES 2014, but instead they announced another new range of tablets called the Samsung Galaxy TabPRO series.
The Samsung Galaxy TabPRO series consists of three tablets with display sizes of 8.4 inch, 10.1 inch and 12.2 inch. All the tablets have the same high resolution of 2560 x 1600 pixels. The devices are powered by the Exynos 5420 processor for the 3G variants and the Snapdragon 800 for the 4G LTE variants. While the TabPRO 8.4 and the TabPRO 10.1 have 2 GB of RAM and option of 16 or 32 GB internal storage, the TabPRO 12.2 has a massive 3 GB of RAM with option of 32 or 64 GB storage.
The Samsung Galaxy TabPRO series evenly equips all the three tablets with an 8 MP rear facing camera and a 2 MP front facing camera. The TabPRO 8.4 has a small 4800 mAh battery, while the TabPRO 10.1 and the TabPRO 12.2 have an 8220 mAh and 9600 mAh battery respectively. All the tablets are expected to be released in the first quarter of 2014.
Speaking about the Galaxy TabPRO series, JK Shin, CEO and President of IT & Mobile Division, Samsung Electronics, said, "We created the Galaxy TabPRO series to kick-off a year in which Samsung truly establishes its leadership in the tablet market. This new line offers the best-in-class content consumption and productivity, combining a stunning viewing experience with Samsung's design legacy. The Samsung Galaxy NotePRO and TabPRO truly demonstrate our commitment to providing our customers with extraordinarily versatile product offerings, tailored to tablet users of every description."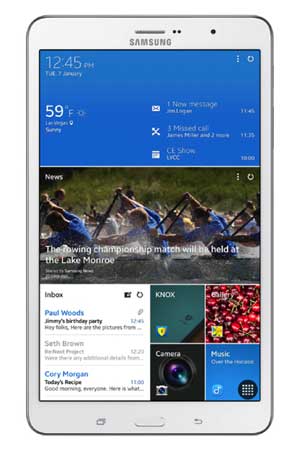 Specs of the Samsung Galaxy TabPRO 8.4:
8.4 inch display
2560 x 1600 pixels resolution
2.3 GHz quad core Qualcomm Snapdragon 800 processor
2 GB RAM
16/32 GB internal memory
8 MP primary camera
2 MP front facing camera
Google Android v4.4 KitKat
4800 mAh battery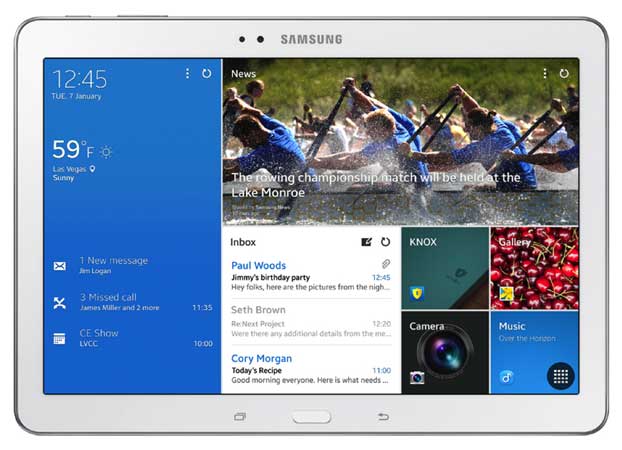 Specs of the Samsung Galaxy TabPRO 10.1:
10.1 inch display
2560 x 1600 pixels resolution
2.3 GHz quad core Qualcomm Snapdragon 800 processor
2 GB RAM
16/32 GB internal memory
8 MP primary camera
2 MP front facing camera
Google Android v4.4 KitKat
8220 mAh battery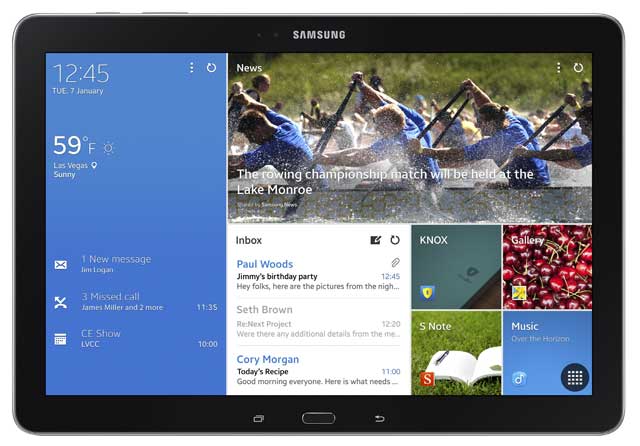 Specs of the Samsung Galaxy TabPRO 12.2:
12.2 inch display
2560 x 1600 pixels resolution
2.3 GHz quad core Qualcomm Snapdragon 800 processor
3 GB RAM
32/64 GB internal memory
8 MP primary camera
2 MP front facing camera
Google Android v4.4 KitKat
9500 mAh battery