Micromax launched specially designed Q55 Bling IIFA Edition phone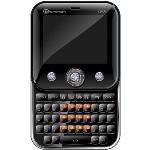 Micromax has unveiled an exclusive IIFA edition of Micromax Q55 Bling mobile phone. Srilanka will host the IIFA Awards scheduled for 5th June' 10.

Exclusive IIFA edition of Micromax Q55 infuses style craftsmanship that embeds an expensive made with Enlightened – Swarovski Elements its all Black swivel phone with a Compact Vanity Mirror and a soft matted QWERTY keypad, IIFA insignia on the back of the phone with modernistic services high performance features like One-Touch launch of Face book, MSN, Multi Instant Messenger Nimbuzz, Opera Mini Browser, Bluetooth, messages and a 2MP camera.
Speaking on the unveiling of the specially designed phone, Mr. Vikas Jain, Micromax, said "Today mobile phones are the nucleus of entertainment for Gen X, who don't just look out for mesmerizing or couple of fascinating features, but indeed, want the best of both to be packaged in the right mix. The new Micromax Q55 Bling IIFA limited edition phone is set to deliver it all, and to be precise, it's set to rock the entertainment lovers with an exhilarating IIFA experience. The Micromax Q55 Bling phone is an altogether unique category in the mobile telecommunication services that would reinvent your experience with the gadget each time you hold it to do something new."