Micromax has become an established brand in India and today they have a new smartphone in the country. The A50 Superfone Ninja is the latest in the company's Superfone category and packs in a special voice assistant called AISHA (Siri anyone?).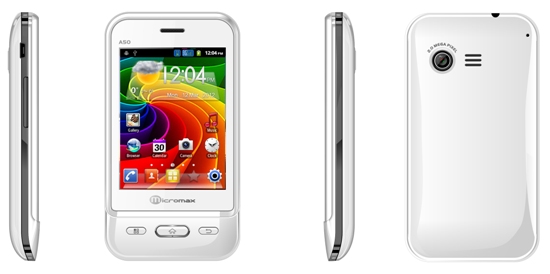 The A50 runs on Android version 2.3.6 (Gingerbread) and features a 650 MHz processor, a 3.1 inch multi touch capacitive screen, dual-SIM, 3G, Wi-Fi, Bluetooth, 2 MP camera, and memeory expansion via microSD card.
The main USP that the company has for you is AISHA
(
Artificial Intelligence Speech Handset Assistant)
, which is a virtual voice assistant that translates words into action. It basically allows interacting with the smartphone by just speaking into it. You can ask for the weather, set an alarm, or just call your friends with having to tapping onto the display.
Suppose you are looking for a pizza outlet. You just need to ask Aisha "Find me Pizza" and it will list all the outlets nearest to you from your current location on a map. You can even update your Facebook status, reply to your text messages, and so on.

Micromax A50 Specifications
3.1 inch capacitive touch screen

Android 2.3.6 Gingerbread

Artificial Intelligence Speech Handset Assistance, AISHA

Dual SIM

3G

Wi-Fi, GPRS connectivity, Bluetooth

2.0 MP Rear Camera

Gravity Sensor

Memory storage capacity expandable Up to 32 GB
The Superfone A50 Ninja is available at a price of Rs.4,999 which, we feel, is a decent price.