If you have been thinking of buying an application or game for your Nokia smartphone running on Symbian OS and have been holding yourself back since the app carried a big price tag, here is some good news.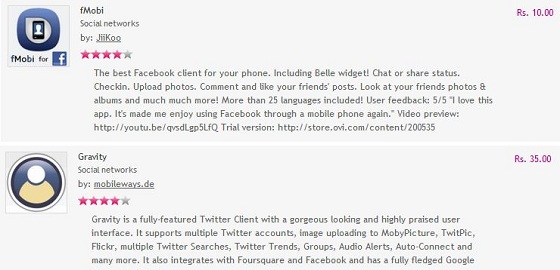 It is raining discount at the Indian Nokia Store as Nokia has reduced the prices of the app by almost 5 times
as part of Nokia's focus on driving the best possible consumer experience in Nokia Store.

The apps which were earlier priced at Rs. 25 are now available for Rs. 5. Many popular games like the NFS Shift and Assassin's Creed II are down to Rs. 15. Whereas popular Social networking apps like fMobi and Tweet60 Pro are down to Rs. 10.

The most popular app for Social networking on Symbian, Gravity which is basically available from its developer for $10 or about Rs. 550, was previously available in the Nokia Store for Rs. 150. But now with the slash in prices, Gravity is now available for Rs. 35.

Previously, there were 10 price points: INR 25, 50, 75, 99, 125, 150, 199, 300, 400, 500. Five new price points have been added. The full range is now: INR 5, 10, 15, 20, 25, 35, 50, 75, 99, 125, 150, 199, 300, 400, 500. Note that content set up with price point #1 used to map to INR 25 and now maps to INR 5.

This reduction in price of apps is indeed a steal deal for all the people who have been thinking of buying the apps but held themselves back. You can now pay using your Credit Card or bill all the apps to your Reliance GSM mobile number and also Vodafone. So what are you waiting for head over to the store.nokia.com now!