Microsoft has announced 2 new tablets in its Surface range – The Surface 2 Tablet running Windows RT and the Surface Pro 2 Tablet running Windows 8.1 . Both the tablets are new endeavors from Microsoft and come with great accessories. While there isn't something that's out of the world, the Surface Pro 2 comes with an Intel Haswell CPU architecture along with 2 kickstand angles USB 3.0 while the Surface 2 comes with a 1080p screen  and a thinner and lighter form factor. As  far as we can see, pricing isn't too great – the Surface 2  is priced at a heavy $449, while the Surface Pro 2 costs a hefty $899!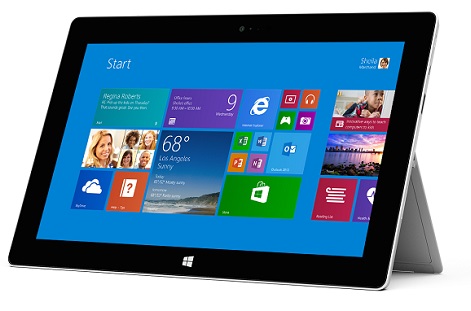 The Surface 2 tablet comes the successor of the Windows RT Tablet  and runs on the new and improved Windows RT 8.1. It is powered by a 1.7-GHz NVIDIA Tegra 4 Tablet, which is an improvement over Tegra 3 with a better GPU and battery performance. It is a large-screen tab with a 10.6-inch ClearType 1080p display and a 207 ppi display resolution. It boasts of a 5-megapixel rear cam and a 3.5-megapixel front cam. It comes with dual-speakers and noise cancelling. There is Bluetooth 4.0, Wi-Fi  and USB 3.0 on board. There's also a new Kickstand which gives this tablet multi-angle support. The tablet comes with Magnesium Sliver finish and weighs 676 g.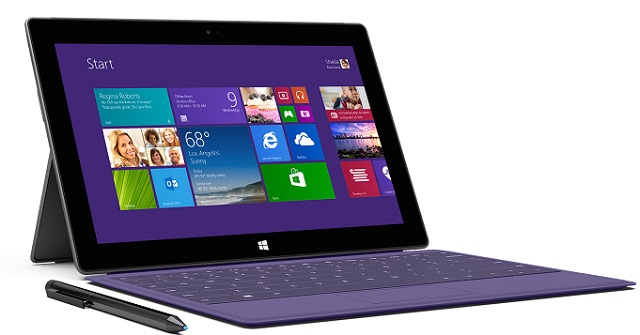 The Surface Pro 2 comes with a 3rd generation Intel Core i5  Haswell processor, Intel Graphics HD 4000 graphics card and 4GB of RAM with an 8 GB RAM model available. Available storage starts from 64 GB and scales uhp. It has the same 10.6-inch ClearType display as the Surface 2. Both also share the same 4200 mAh battery . While this might seem less, Microsoft claims that owing to better battery management, the tabs will perform 60 per cent better. The Surface Pro 2 comes with Windows 8.1 Pro and weighs 0.907 kg, which is heavy.
Accessories from Microsoft include Backlit Touch/Type/Power covers,  Car chargers, Wireless adapters, Arc Touch Mouse Bluetooth Mouse and Surface Remix cover specially designed for musicians.
Both tablets will hit the shelves on October 22.
Specs at a Glance:
Microsoft Surface 2
10.6-inch ClearType Display;207 ppi display resolution
Windows RT 8.1
1.7-GHz NVIDIA Tegra 4 Processor
5-megapixel rear cam; 3.5-megapixel front cam
Bluetooth 4.0, Wi-Fi  and USB 3.0
Kickstand with multi-angle suupport
Magnesium Sliver finish; 676g
Microsoft Surface Pro 2
10.6-inch ClearType Display;207 ppi display resolution
Windows 8.1
1.6-GHz Intel i5 4th Gen Haswell processor; Intel Graphics HD 4000 Graphics card
4 GB/ 8 GB RAM
Surface-Pen support
Twin 720p cams
64/128/256/512 GB versions available