Microsoft Dev Center account for developers at $19 till August 27
Trying to woo more developers to give Windows Phone platform a try, Microsoft has reduced the charges for the Windows Phone Dev Center.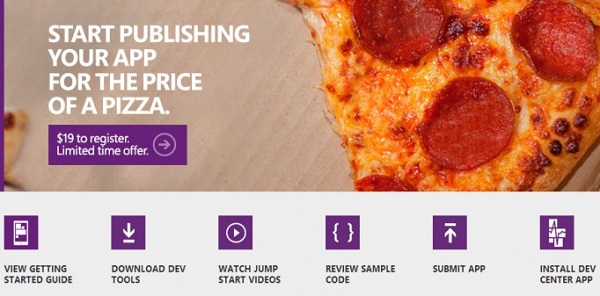 Windows Phone Dev Center is the home for developers who wish to create apps on the Windows Phone platform. While Microsoft provides most of the tools and research code samples for free, the Dev Center account is required when testing the app and for submitting the same on the Windows Phone Store.
To increase the number of developers joining the Dev Center, Microsoft has announced a reduction in the access fees for the Dev Center from $100 to $19 only, which is compared to the price of a pizza. This offer is limited till August 27.With the Dev Center account, you are entitled to a host of benefits enlisted below:
Get free development tools, including a phone emulator to test your app
Explore code samples and all the information in the developer library
Read tips about selling your app
Review policy guidelines and certification requirements
See tips and guidelines for creating apps that reflect the beauty of [Windows Phone] design concepts
Create apps with trial options
Enable in-app purchasing, so customers can buy things within your app
Test your app with a real phone
Submit free and paid apps to the Store
Distribute your app around the world and set country/region-specific price tiers
Watch your progress and manage your apps in a personalized dashboard
Ask questions, share advice, or talk with other Windows Phone developers