With Microsoft replacing the Nokia branding with its own, the company has now partnered with Opera to replace the Nokia Store used on the existing devices.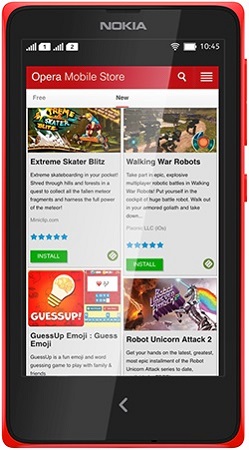 Microsoft has signed an agreement with Opera Software to make the Opera Mobile Store the default app store for the existing Nokia feature phones, Symbian and Nokia X smartphones. The Opera Mobile Store would replace the existing Nokia Store and the users trying to access the Nokia Store would be automatically redirected to the Opera Mobile Store starting in the first quarter of 2015.
Once the Opera Mobile Store replaces the Nokia Store, users would be turned into customers of the former and would have access to tens of thousands of apps for their Nokia phones. The migration is expected to be completed by the first half of 2015 after which the Nokia Store is expected to be closed.
Speaking about the replacement of Nokia Store with the Opera Mobile Store, Rich Bernardo, Vice President, Phones, Microsoft, said, "We continue to sell and support classic Nokia devices, which remain popular in many parts of the world. We're delighted to partner with Opera Software and continue to provide a reliable app store experience for consumers and developers alike."