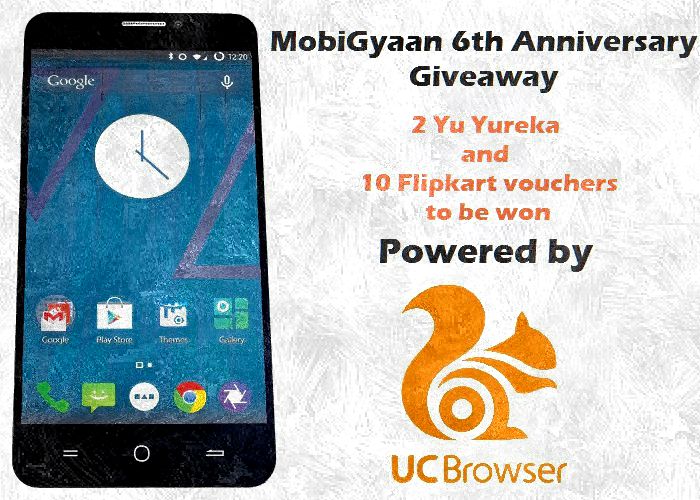 To celebrate our 6th Anniversary, we thought of doing something exciting for our readers. We have partnered with UC Browser, India's no.1 mobile browser and are giving away 2 Micromax Yu Yureka and 10 Flipkart Vouchers worth Rs. 500 each.
To participate, you need to do the following.
1. Like us on Facebook
2. Share this post on your Facebook Profile.
3. Like UC Browser India on Facebook
4. Subscribe our Newsletter (It's free)
5. Fill this form.
Terms and conditions:
By participating in the Giveaway, you agree with our Terms and conditions
The submission of entries will be closed on 2nd February, 2015.
Names of the winners will be declared on 10th February, 2015
We reserve the right to make changes in the terms and conditions.
This Giveaway is sponsored by UC Browser.
UC Browser recently released the the version 10.1 for Android which allows its users to get real-time Facebook notifications even when the browser is closed. It also allows to manage UC Browser notification history from the menu.
This is the first time Facebook is teaming up with a mobile browser to allow real-time notifications outside of its native app without the need to install a new add-on, since the feature is activated within UC Browser. This is a plus for people who prefer to use one app to address all their browsing needs. You can start receiving real-time notifications, even after you exit the browser. You can also manage the type of notifications you receive so you only get the ones that are most important to you.
This is not the first time the two companies are working together to maximize your Facebook experience on a mobile browser. In June 2014, UC Browser released a "Browse Facebook Faster" add-on, that when enabled lets you speed up Facebook page loading. This is on top of UC Browser's industry-leading browsing speed achieved through proprietary Cloud Acceleration technology.
To experience the amazing UC Browser, download it from here.
And the winners are…..
Micromax Yu Yureka
Chirag Gupta
Rohan Shah
Flipkart vouchers
Pooja Patil
Harshul Jethwani
Sathish Kumar
Megha Bansal
Sambit Chakraborty
Vaibhav Jain
Saikiran Pudi
Naman Shah
Manmeet Singh
Animesh Sahoo
Congratulations to all the winners. We will get in touch with you within a week!