It's been a while since we announced a Giveaway on MobiGyaan.com and we thought Diwali is the perfect occasion to do that. So, here we are with another giveaway to make this Diwali special for our readers. We will be giving away total mobile recharges worth Rs. 10,000.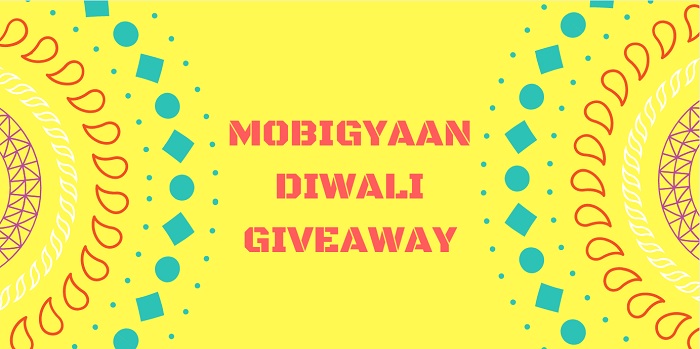 There will be
5 winners who will win Rs. 1000 mobile recharge
5 who will win Rs. 500 mobile recharge
25 winners who will win Rs. 100 mobile recharge
To get a change to win Free talk time, you need to participate in MobiGyaan Diwali Giveaway by following the steps mentioned below.
1. Share this post on Facebook 
2. Leave a comment in our comment section below.
3. Subscriber to our newsletter
4. Like us on Facebook

For Bonus points, you can follow us on Instagram and Twitter, Also, subscribe to our YouTube channel.
Terms and Conditions
*By participating in Giveaway you agree with our Terms and conditions
*You must be an Indian resident
*The MobiGyaan Diwali Giveaway will end on 4th November 2016 11:59 pm
*Winners will be declared on 7th November 2016.
The winners are
Rs. 1000 Mobile Recharge
Vijay Kumar
Kaushik Medhi
Pramjeet Singh
Sathish Kanna
Manjit Sarma
Rs. 500 Mobile Recharge
Sahil Mahajan
Kiran Poojary
Birju Damani
Akshay Prabhu
Sudeep Khatri
Rs. 100 Mobile Recharge
Ajay Thakur
Rohit Kavathekar
Md Sanjay Khan
Jayan Nair
Aditya Aggarwal
Imtiyaz Habib Patel
Leenus Nelleri
Mukesh Dave
Tirupati Gavandi
Rohit Roy
Pradeep Gupta
Veer Jandyal
Veenu Gupta
Prakash Pokharkar
Aryan Gupta
Rakesh Kumar
Acharya Deepak
Neha Agarwal
Karan Kohli
Ifrah Khan
Aditya Agrawal
Reema Garg
Deepesh Pandey
Sonia Kumar
Baidyanath Mohanta
Congratulations! We will contact you soon.