MobiGyaan Giveaway : Win Rs. 1000 Talktime [September 2011]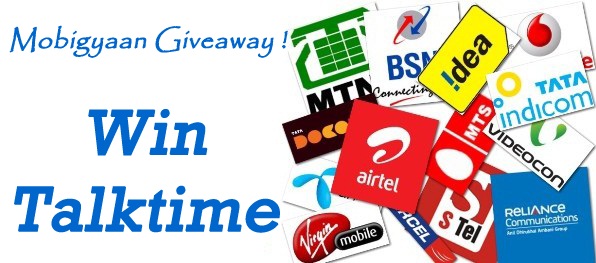 Rs. 3000 talktime? How does it sounds? Well, we are announcing Free Talktime giveaway for the month of September. 1 Winner will win Talktime of Rs. 1000, 2 winners will win talktime of Rs. 500 and 10 Winners will win Rs. 100 talktime. To participate in the giveaway all you need to do
is :
Follow the 4 Steps below
1) Like MobiGyaan Facebook page

2) Subscribe to our Email Newsletter [You must confirm your subscription by clicking the confirmation link sent in email.]


3)

Leave a comment below, telling us why do you want to win the talktime or what do your think about MobiGyaan or both.

4)
Fill a simple form. Click here to enter your details

You can follow us on twitter @mobigyaan. If you have any doubts/queries then ask http://www.twitter.com/puneetsays
Terms and Conditions
*By participating in Giveaway you agree with our Terms and conditions
*You must be an Indian resident
*Filling form more than once will result into disqualification
*Last day for submitting entries is 30th September 2011
*Winners will be declared on 2nd October on this page itself.
*In case recharge of the above mentioned denomination is not available, then the recharge of nearest denomination on the lower side will be provided to the winner.
*We have right to modify T&C
The prizes are sponsored by PayTM


PayTM is India's simple, secure and hassle free online prepaid recharge service for all major mobile telecom operators, DTH service providers and prepaid & postpaid data cards recharge providers available in India. To enhance the online experience, Paytm also offer free coupons on every recharge without any extra charges from our customers.
With PayTM you can instantly online prepaid recharge Mobile, DTH & postpaid data cards. PayTM also provides 24X7 customer support service to ensure highest customer satisfaction.

If you want to sponsor any Giveaways or Contests on MobiGyaan, contact us.
Update : And the winners are…………
Rs. 1000 talktime
Apurva Saxena
Rs. 500 talktime
Davin Lewis
Ashwin Kala
Rs. 100 talktime
Ramesh Nayak
Anupam Das
Vishwajeet Kundu
Gopalavalli Dasan
Jeet Dholakia
Mridul Khurana
Shubham Jain
Khushi Gopalani
Manish Ingale
Deepesh Chang
Congratulations to all the winners. Those who couldn't win, don't lose your heart. We will be coming up with more Giveaways and Contest in future. Thanks everybody for your participation.
All the winners will be contacted soon.