Windows Phone Mango 7.5 truly went on to save Microsoft from a deadly exit from the mobile phone market and Microsoft is now betting all its money and resources on the development of the next version of the Windows Phone codenamed 'Windows Phone Apollo' and which may officially go on to be called Windows Phone 8. 

And now a little analytics report from Hitlinks has revealed that there are a few Windows Phone 8 testing devices out there which are visiting the web on a regular basis. 

Until March there was very little information on the development that Microsoft is undertaking over the OS but as for this month, loads of news is coming. Like the leaked marketing slide, which went on to reveal a Nokia device running on WP8 and also confirming a bit that the next upgrade will be called Windows Phone 8 and not WP Apollo. 
 
These test devices have come into action only from this month. And when we consider the total market share of the devices, Windows Phone 7.5 dominated with a total of 82.62% whereas Windows Phone 7 devices held about 17.22% of the market share.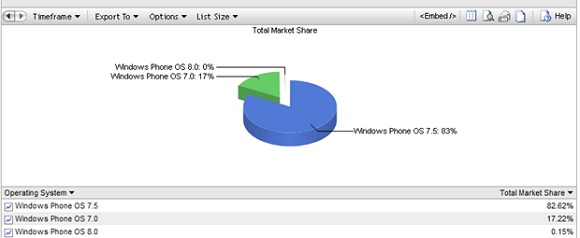 When we talk about the Windows Phone 8 devices then they hold a meagre 0.15% of the total share but considering the limited number of test devices out there it is a good number.

Also this percentage goes on to tell us that Microsoft is working hard on outing the OS by Q4 2012, but we are also hearing that MS may even release it a bit early if everything it has planned goes as per its wish.