Motorola, after changing the whole scene in the smartphone market with its stunners – the Moto G and Moto X, is back, yet again with something delightful – The Moto E. I swear I don't know what the E stands for, but if it were up to me, I would say ebullient and eclectic.
This new phone, which offers most of the stuff that Moto G offers, at a price of just Rs. 6,999 and more. Like it has done before, Motorola is trying challenge a whole segment of the smartphone market and change the perception of what affordable smartphones represent.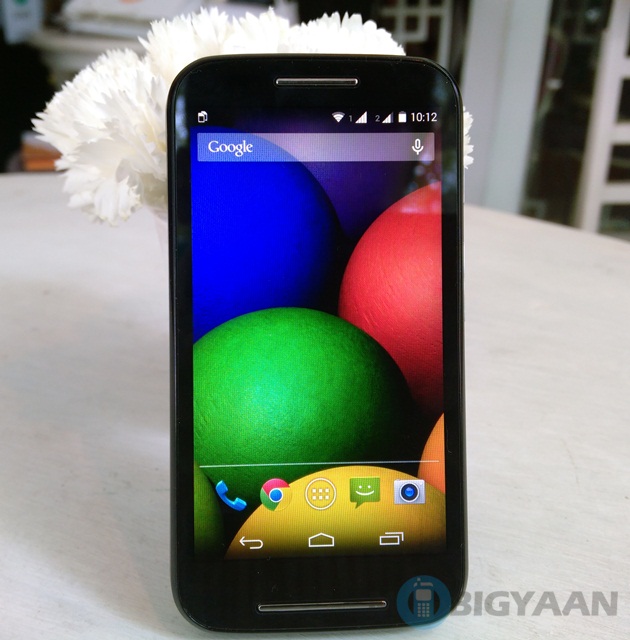 Rather than making tall claims and spend a lot on advertising, Motorola hasn't created much of a splash but rather banked on the phone's credentials for its success. It has just been a few days since the unveil and it has received rave reviews on Flipkart already. The difference with Moto E is that unlike Moto G, it hasn't come after making waves throughout the world. In fact, India received it before the rest of the world. Therefore, it has to create its own niche. If youe have a look at its listing, it has started to do so. In my view, Motorola just needs to stress on the phone's merits and it is going to do wonderfully.
The Moto E hype has already caught on. Even though both Flipkart and Motorola assured us at the unveil that they are sufficiently stocked up (80,000 – 100,000 units), they have run out of the phone.If you order one know, you will get it only in 7-10 days.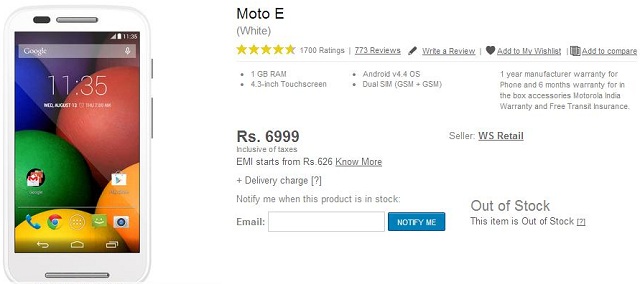 Even though I am no smartphone fanatic, here are some of the comments it receive, showing I wasn't the only one impressed by Moto E.
Moto E best Phone for the Price – Moto finally understands indian market
KILL SAMSUNG S DUOS & SAMSUNG GALAXY CORE
its bye bye micromax n samsung.
And those are just some 777 reviews it has received in such a short time. It seems like Motorola is on to a good thing. But what is it that makes this smartphone so catchy? I have got a unit for review and here are some features I think which make it awesome.
Inexpensive price tag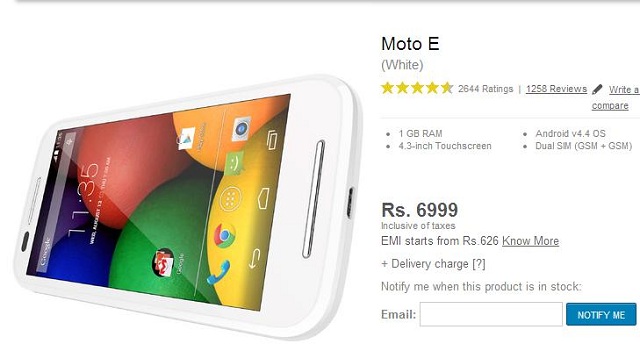 When it comes to the Moto E, the price tag is the rock star here. Like Motorola did with the Moto G, they have yet again breached a price barrier with the Moto E. A Rs. 6,999 price tag for a Motorola phone that looks and feels like it does is pretty cool and not just that, there are added joys – a 1.2-GHz dual-core processor, 1 GB RAM and a 1980 mAh battery.
I admit they don't sound out of the world, but put them along with stock Android and they seem great. Needless to say, this phone gives you a bang for your buck.
Motorola Alert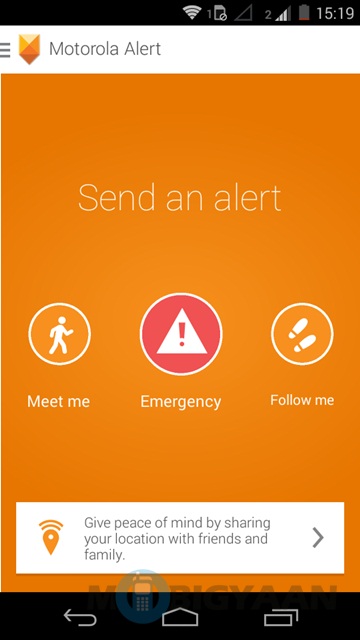 This is an entirely new endeavor from Motorola and yet again, it has been shaped by the consumer's need and common sense rather than, more aspirational features, which wouldn't form a part of your day-to-day life. Motorola Alert is a location, tracking and safety software, all rolled into one. It has three main features: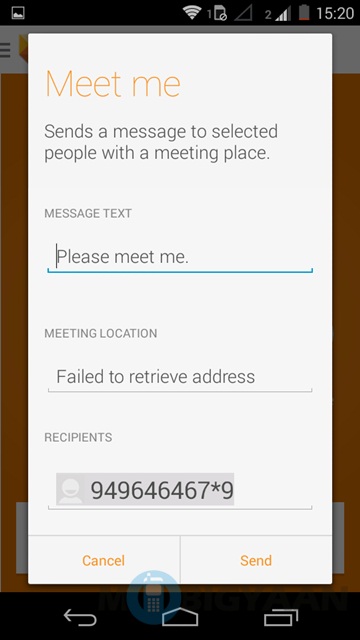 Meet me: This feature will do something that people generally used  WhatsApp to do. You can send your location to somebody to meet you at a certain place. But, you can not only send over your current location, but even a tentative location, say you want to meet someone at India Gate, Just tell them to meet you at India Gate using the search feature and it will send over the location via SMS.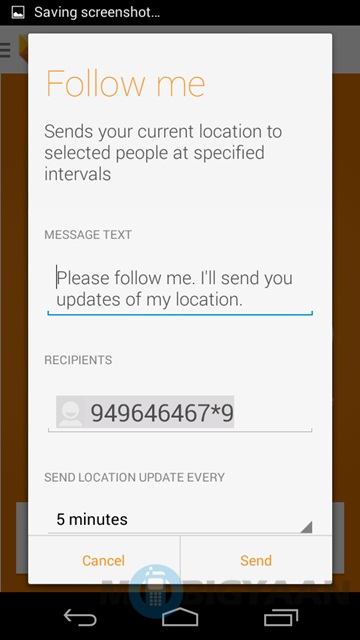 Follow Me: Follow me is like a person tracking software. What it does is simple yet out of the box – it actually tracks a person's location at set intervals and sends it over to another phone via SMS. This can actually help people breathe a sigh of relief, when they want to know where their loved ones are – you can actually set particular interval and get alerts around the time.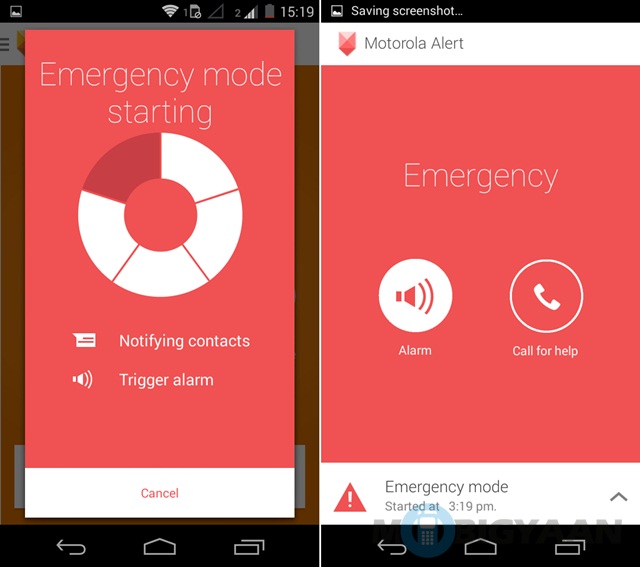 Emergency alerts:  This one is a feature I would recommend every phone to have. basically there are two parts of it – alarm and emergency call. You can actually sound the alarm either by clicking the Emergency button in the Motorola Alert menu or just by pressing the power button twice, which will definitely be more useful in case of an actual emergency. As soon as the alarm is triggered, it gives you 5 seconds, after which it will start sounding the alarm and then, automatically sending out messages with your location to an emergency number. In many unsafe cities, such as Delhi, this feature is not only important, but necessary in my view.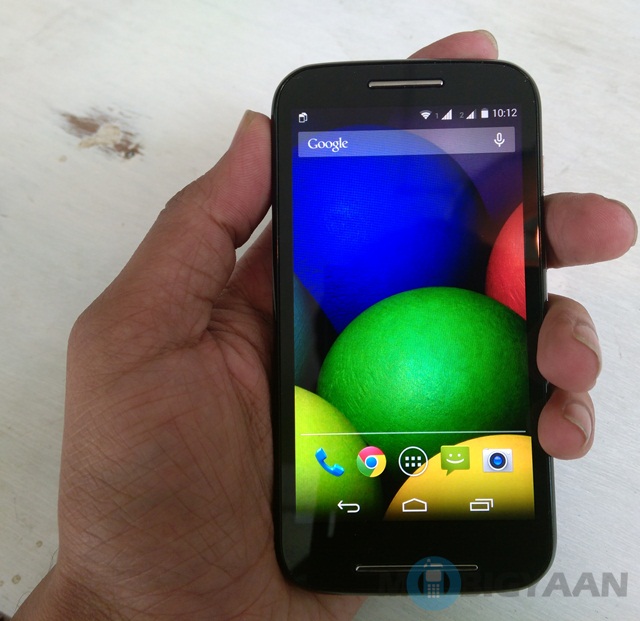 Display
The Moto E actually has a 950 x 540p display. This is actually usual with smartphones in this price range. But the way the display is executed is what makes the difference – it comes with a 256 ppi screen density and a Corning Gorilla Glass 3 display. The display has been executed just like the Moto G, which means that it is highly optimized and works good.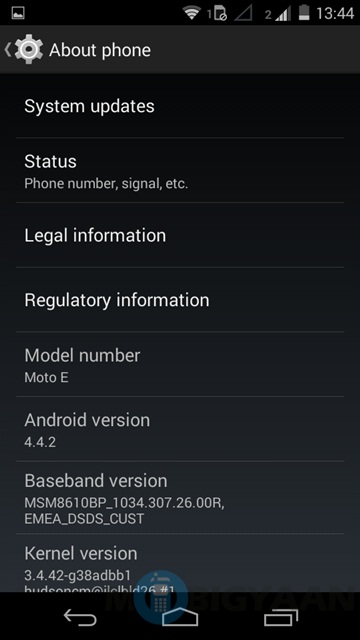 Android updates
The Moto E, it has been announced will be eligible for Android updates till the next major one i.e. Android 4.5/ Android 5.0. Not just this, it comes out-of-the-box with Android 4.4.2, and it might be the only phone in its segment to support Android Kitkat. It is positively delightful, that even at such a price, the Android version being offered is not an old one and that there is the possibility of an update. This alone sets Motorola apart from its league. Not just that, Motorola is very fast at coming up with updates, and some of its devices have received faster updates than Google's very own Nexus range, which says volumes about the company's plan for smartphone software.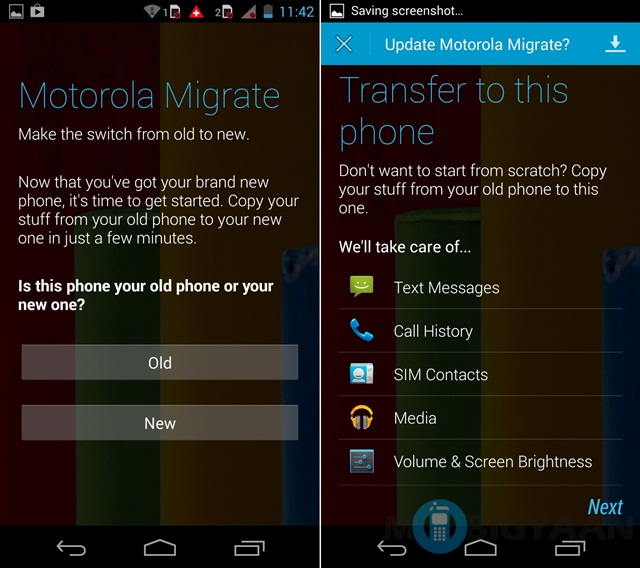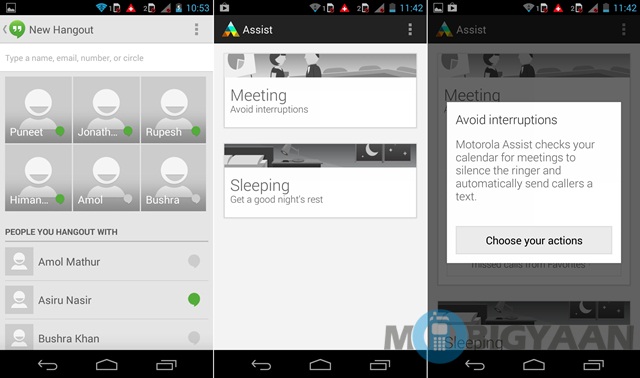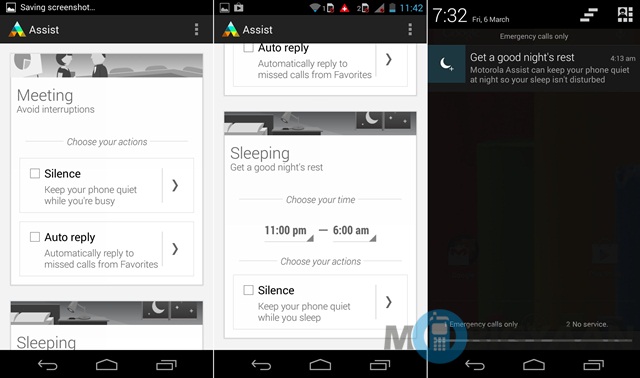 Motorola Assist and Motorola Migrate
One look at the Moto E and it becomes clear that Motorola does not follow the policy of maintaining eons of difference between differently priced phones like the rest of the industry. I am, well, impressed by that. In terms of software, it is as close to the mid-range Moto G as possible. Besides Stock Android, it comes with Motorola Assist and Motorola Migrate, two app designed by Motorola. Both are great apps, one lets you manage the phone as per your schedule and the other lets you transfer data from one phone to another easily. The fact that these pour on to a budget phone is pretty cool.
That being said, unlike the Moto G, I didn't find the Moto E near perfect.The rear camera is not too good, there is no front cam and it is a tad bulky. But, more on that in my full review of the phone, which will come out soon.
To buy Moto E, visit here.