With Motorola all set to announce the new smartphone later today which is said to be 'priced for all', the LTE version of the affordable Moto G was spotted online.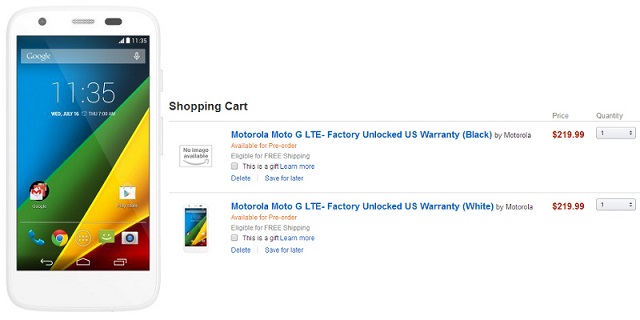 The Moto G LTE variant was spotted online on Amazon. This is apparently the same handset that had surfaced last month along with the Moto G Ferrari Edition. As expected the device has the exact same specs with only additional 4G LTE support. Interestingly the device is priced at just $219.99 making it the most affordable LTE smartphone in the market.
With Motorola scheduled to announce the new affordable Moto E today in London and India, we can expect to see the Moto G LTE variant as well. Considering the success of Moto G and the onset of 4G networks globally, the LTE variants will be gladly welcomed. Stay tuned and we'll let you know which devices Motorola will announce today.