Moto G successor to be called Moto G+1; Specs include 5 inch HD display and 8 MP camera
After the gross popularity of the Moto G due to its affordable pricing, it was quite obvious that we would have a successor to the handset. While just a few days back we got a glimpse of the device, now we have the expected specs.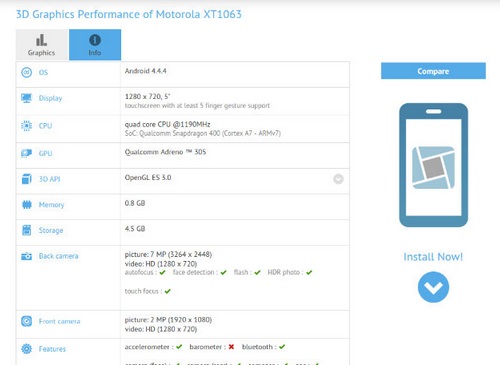 The Moto G successor apparently visited the GFX benchmarks giving a low down about the handset. To begin with the device, which has model number XT 1063, is apparently called the Moto G+1, just like the rumoured Moto X+1. The phone has a slightly bigger display of 5 inches but with the same resolution of 1280 x 720.
Surprisingly, Motorola doesn't seem to have bother enough to upgrade the internal hardware and would place the same quad core Snapdragon 400 chip along with 1 GB of RAM and 8 GB of internal storage. However, the cameras have been upgraded. The rear camera would have 8 MP resolution whereas the front would be 2 MP. Should this really be true, there isn't much to look forward to in the Moto G successor.