Motorola unveiled two new smartphones last month – Moto G4 and Moto G4 Plus. While the Moto G4 Plus is already available for sale on Amazon India, the G4 isn't available yet. However, Motorola India has announced that the Moto G4 will be available for sale from June 22.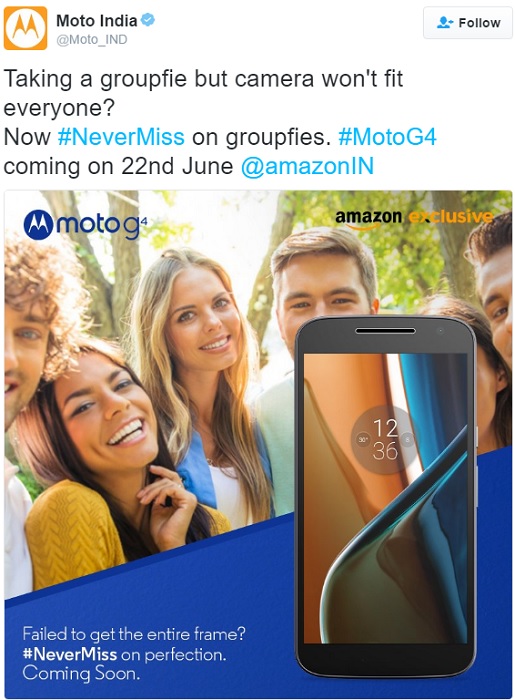 The news came in the form of a tweet from Motorola India's Twitter handle. Motorola India tweeted "Taking a groupfie but camera won't fit everyone? Now #NeverMiss on groupfies. #MotoG4 coming on 22nd June @amazonIN". The Moto G4 Plus is exclusively available for purchase through Amazon India, and hence, the Moto G4 too will be Amazon India exclusive.
The 2 GB RAM variant of the Moto G4 Plus is priced at ₹13,499 whereas the 3 GB RAM variant comes with a price tag of ₹14,999. The Moto G4 is very likely to be priced less ,and, we assume it will be priced somewhere around the ₹10,000 to ₹11,000 mark.
There's not much difference between the Moto G4 and the Moto G4 Plus, except for the camera and fingerprint scanner. The Moto G4 Plus comes with 16  MP primary camera along with fingerprint scanner, whereas, the Moto G4 comes with 13 MP camera and doesn't have fingerprint scanner.
Both these smartphones are powered by Snapdragon 617 SoC, have 5.5-inch Full-HD display, 5 MP front camera, 16 GB internal storage, Android 6.0 Marshmallow, and, a 3000 mAh battery.
So, which one would you buy, Moto G4 or Moto G4 Plus?