After making us wait like crazy, Flipkart has finally brought the Moto X smartphone to Indian shores. The handset is not accompanied by the Moto Maker customization project, but still comes in a range of colors included wood panelled finishes. Aside from that the features that will stand out will be voice response, a 10-megapixel camera and stock Android.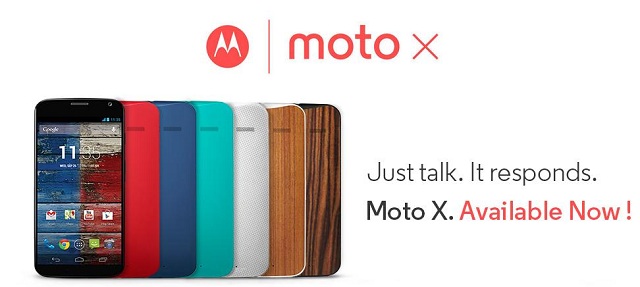 The Moto X smartphone smartphone was launched back in August last year. It has taken this long to land here because  Motorola's consumer division no longer has a presence here and the company depends on the likes of retailers like Flipkart to get its phone here.
Flipkart, on the other hand has previously got the Moto G here and opened up to a great consumer response. Its Twitter account buzzed like crazy yesterday, when it confirmed the Moto X launch. The company has  put out three offers for the phone –
Rs. 1000 off if you go for a 6-month EMI scheme
70 percent off on cases
10 lucky winner get the phone for free
Talking about specs – since this phone is priced in the mid-range category, it competes with likes of Micromax Canvas Turbo and Samsung Galaxy Grand 2. It does not support a full HD screen that some Indian smartphone makers  have begun to offer in this range but a 720p AMOLED display. Under the hood there is a dual-core Qualcomm Snapdragon processor. This is not a quad-core one, yet should be a quality one. Going by the global response of the phone, Motorola has optimized it well and it should work out great. The other thing is a 10-megapixel camera, which should be expected to perform better than 13-megapixel ones offered by Indian OEMs on their phones.
But, what really stands out with Moto X is definitely voice control. The phone adapts to the sound of your voice and you can just tell it anything you want to do by saying 'OK Google'.
The phone supports stock Android and lets you use certain shortcuts from the lockscreen itself.
Check out the specs –
Motorola Moto X specs
4.7-inch 720p AMOLED display
1.7-GHz Dual-core Qualcomm processor
2 GB RAM; No MicroSD slot
10-megapixel rear camera; 2-megapixel front cam
Android 4.4.2
Nano-SIM
2200 mAh battery
4G support
To buy Moto X, visit here.