While the Nexus users are still awaiting the latest Android Lollipop update, Motorola surprised some of their customers with a system software update.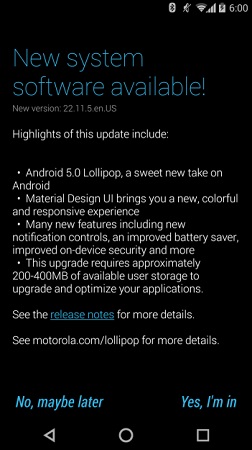 Motorola has begun the Android Lollipop soak test on the Moto X 2014 Pure Edition and has started releasing the update. While the update was supposed to go only to users registered for the beta program, a few unregistered users are also reported to have received the update. Further the OTA file of the soak test is available online and anyone with an unrooted Moto X 2014 Pure Edition can install it right away.
 While it is surprising to see Motorola, which is now fully owned by Lenovo, moving at a quick pace to release update, it is shocking that the company has actually managed to be faster than Google itself. At this rate, we can expect the other Motorola handsets to receive the updates by next week.
Via