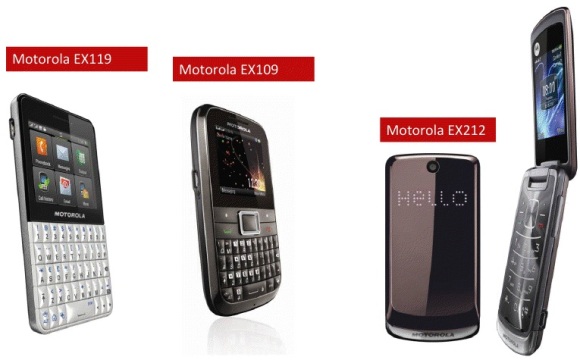 Three new dual-SIM handsets have arrived in India courtesy Motorola. Motorola EX212, Motorola EX 119 and Motorola EX109 are the latest models to hit the country. The Motorola EX212 is a compact flip phone with a 2.4-inch display, the Motorola EX119 has a full QWERTY keyboard and a 2.4-inch capacitive touchscreen and the Motorola EX109 is a slim mobile phone which offers a full QWERTY keyboard.
The EX212 is a thin flip phone which features a secondary an LED screen in addition to its main 2.4 inch screen for a dynamic graphical display even when the phone is flipped shut. The LED array displays incoming calls or messages on the mobile phone for greater convenience and ease of use. The handset also has a 2MP camera, an audio-video player, FM radio, 3.5mm stereo headphone jack and microSD card storage of up to 16GB. The Motorola EX212 is priced at a MRP of Rs 5,190.
The EX119 is super-slim at only 9.9mm thin and features a 2.4-inch touchscreen display with a full QWERTY keyboard. It also offers five different home screen styles, a range of interface themes, and built-in links to Facebook, Twitter, and other popular social network sites and email services. Other features include Wi-Fi, IMAP idle push email, a 3MP camera, microSD card support up to 32GB, USB 2.0, Bluetooth, stereo FM radio and a 3.5mm earphone jack. The Motorola EX119 is available at a MRP of Rs 6,190.
Lastly, the EX109 comes in with a full QWERTY keyboard and a 2-inch display with a 2MP camera, FM stereo with recording capability, a 3.5mm audio jack, MPEG4 support, microSD card up to 32GB and Bluetooth capability. The Motorola EX109 comes at a MRP of Rs 3,590.