Motorola launched the Moto Turbo in India last year. The device was launched with a price tag of ₹41,999 and ran on Android 5.0 Lollipop out of the box. However, if you are a Moto Turbo owner and were waiting for Android Marshmallow update, your wait is over as the Android 6.0.1 Marshmallow update is being rolled out.
The Android 6.0.1 Marshmallow update for Moto Turbo is over 900 MB in size, 965.2 MB to be precise. Hence, it would be a wise decision to download it over a Wi-Fi connection. Being a Marshmallow update, it brings along features like Doze Mode, Google Now On Tap, App Permissions and more to the Moto Turbo. Android security updates are also included.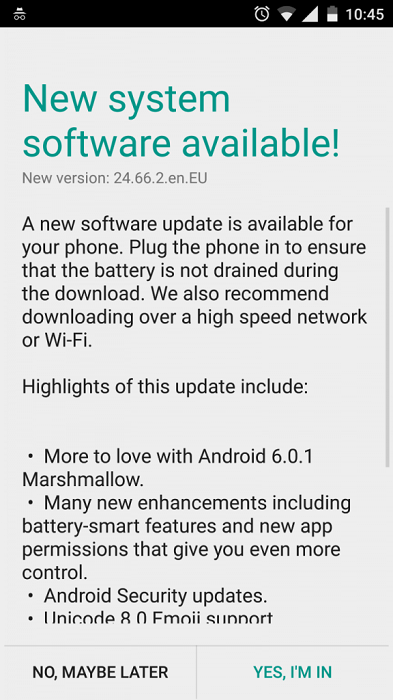 Motorola is known for rolling out Android version updates to its devices as soon as they are released by Google. Rather, we would say Motorola devices are the ones which receive updates soon after they are rolled out to Nexus devices. The reason is Motorola sticks to stock Android with few useful customizations added. However, considering its own track record, Motorola has been late in providing the Marshmallow update to Moto Turbo. Well, it's better to receive an update late than not at all.
While Google is set to release Android Nougat later this summer, we are not sure whether Moto Turbo will get the Nougat update or not. Well, nothing's certain as of now, so we suggest you enjoy the Marshmallow update that's being rolled out. If you haven't received the update yet, check for it manually by going to Settings > About device menu.