Motorola Shamu spotted at benchmarks; Flaunts the Snapdragon 805 CPU with 5.2 inch Quad HD display
Recently we heard about the Motorola Shamu smartphone which was allegedly developed under the directions of Google. While we were initially sceptical about it being the next Nexus smartphone, turns out it really is the upcoming successor to the Nexus 5.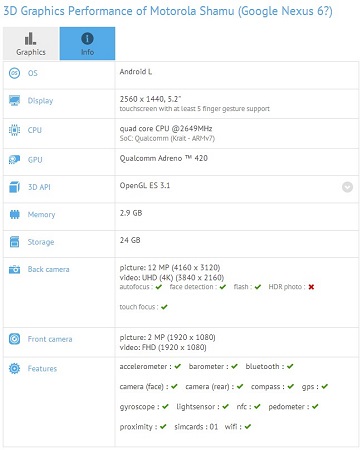 The Motorola Shamu was apparently spotted at the GFX Bench and gave a proper insight to the internal hardware, which pleasantly surprised us. To begin with, the handset sports a 5.2 inch display and not an unbearable 6 inch display as reported earlier. To add to it, the display has Quad HD resolution of 2560 x 1440 pixels.
Now here is where the interesting part lies, the Motorola Shamu is apparently powered by the quad core Snapdragon 805 CPU clocked at 2.6 GHz, making it one of the few smartphones to be packed in with so much power. Should this detail be true, we're looking at a high-end device not only capable of pushing away the likes of the Galaxy S5, but in the league to compete with the yet to be released iPhone 6, just as intended.