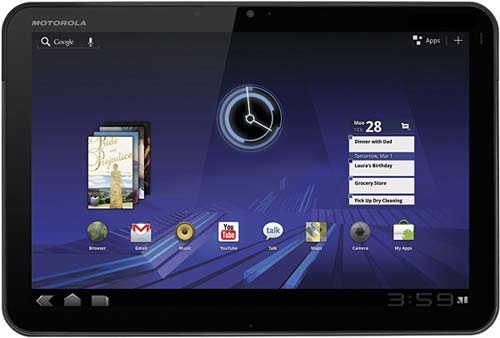 Another new tablet is about to hit the Indian market. Recently RIM or better known as BlackBerry has launched their PlayBook tablet for pre-book. Now Motorola is getting all set to launch their XOOM tablet.
The tablet will run Android 3.0 (Honeycomb) on a 10.1-inch 1280×800 widescreen HD display. The processor clocks t 1GHz and is a dual-core processor with 1 GB of RAM. A 5 MP rear-facing camera with flash can capture HD video, and there is also a 2 MP front-facing camera. Other features include Google Maps, Adobe Flash Player, gyroscope, barometer, e-compass, accelerometer, Wi-Fi, Bluetooth, and support for microSD cards.

"Motorola XOOM redefines what the tablet experience should be. Designed from the ground up with the consumer in mind, it provides more ways to have fun, connect with friends and stay productive while on the go," said Rajan Chawla, Mobile Devices business country head for Sales and Operations, India and South West Asia, Motorola Mobility.
The price and the various models are not yet disclosed, but you can visit here for more.