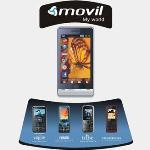 Bling telecom, a Private Limited Company has rolled out its new brand Movil in the Indian market and introduced an array of designer phones in the mid and high end segments for GSM and CDMA technologies.
Movil's array of designer phones launched included the rough and tough water resistant MA1 with with features such as: Battery life of 1000mAh, Camera, , MP3 and MP4, flash card slot and dual card standby. The other models launched are V1c, a low end multi-media CDMA device with MP3 player, MT1, a dual SIM phone with 3 mega pixel camera, 3D motion sensor, and MP3/MP4 player as well as MC1, a multi media device with dedicated music keys. In addition there is 3.5 mm jack for the music lovers even for the entry level phones
The entire range of Movil mobiles comes in various colours. The price range of Movil Mobiles starts from Rs.2000 onwards.
Marketing Plans of Movil Mobiles
The company plans to achieve a target 1.5 million phones by the financial year 2010-2011. A direct retail model for the distribution of mobile phone's will be adopted. The company will showcase its products with retail and franchise stores of several large operators in the country. The company with an aggressive branding program is going pan India with blue chipped distributors and a string of service providers. A large recruitment drive is already underway to install promoters in all the leading mobile stores in the country.
The company will also launch a separate brand "BLING" for the growing CDMA open market.