MTNL (Mumbai) offers Free Unlimited Local Video calling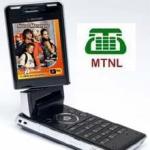 Mumbaikars who are using MTNL can now make Free Unlimited Local Video calls for the period of 22 days which starts from today 22 February 2010 and valid up to 15 March 2010.

MTNL FREE 3G OFFER is available for both its Prepaid and Postpaid subscribers. MTNL 3G provides benefit of using Next Generation Mobile Service like Unlimited FREE Video calls, High Speed Wireless Broadband Internet up to 3.6 Mbps, Mobile Gaming, Music/Video downloads and much more. In Mumbai MTNL is the only operator licensed to provide the 3G Mobile services at present.
MTNL's FREE 3G OFFER IN DETAIL

:
The one time 3G activation fees of Rs 149/- will be waived off during this period for all those customers who send "ACT 3G" SMS to 444 for Trump or 555 for Dolphin.

The video call facility will be offered free Unlimited to the customers in the MTNL network.

Access to High speed Internet up to 3.6 Mbps will be provided free of charge.However, the data download/usage will be charged @ 2p/10 KB.

The 3G service will be disabled after the trial period when customer does not send "ACT 3G "on 444 or "555" respectively for Trump & Dolphin.

The customer has to maintain a minimum balance of Rs 25/- in his prepaid account. 6. The Activation SMS will be charged at Rs 2/- per SMS.
How to Activate the Free 3G service offer
Trump (Prepaid)
Dolphin (Postpaid)
1. This facility can be availed by sending SMS "FREE 3G" to 444.

2. If the customer wishes to continue the services after free trial offer

with waiver of one time activation charges of Rs 149/-, the customer should send "ACT 3G" to 444 before the expiry of the trial period and upto 15.3.2010 only. The list of such customers will be maintained and they will be provided 3G services without charging any activation fees.

3. From 16.3.2010, one time activation charges of Rs 149/- will be charged if customer did not activate 3G service in free offer period.

4. The customer will have to maintain minimum balance of Rs 25/- in his prepaid account.

5. The browsing and down load will be charged @ 2p/10KB. The subscriber who recharges with Rs. 45/- or Rs. 48/- coupon, the data tariff will be 1p / 10KB

6.To know more call 1503 / 9869012345 or 022-22221503

1. He can avail this facility by sending "FREE 3G" SMS to 555.

2. If the customer wishes to continue the services free trial offer with waiver of one time activation charges of Rs 149/-, the customer should send "ACT 3G" to 555 before the expiry of the trial period and upto 15.3.2010 only. The list of such customers will be maintained and they will be provided 3G services with out charging any activation fees.

3. From 16.3.2010, one time activation Rs 149/- will be charged if customer did not activate 3G service in free offer period.

4. The browsing and down load will be charged 2p/10K

5.To know more call 1503 / 9869012345 or 022-