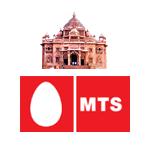 Sistema Shyam TeleServices Limited (SSTL) today announced the launch of its mobile telephony services in Gujarat. The launch extends the company's national footprint to 13 telecom circles including the entire Western region of India. Company's launch plan includes an investment of Rs 100 Crore in Gujarat. These funds will be utilised in building the service network for MTS customers across the circle. Over the next 3 months, MTS customers would be serviced by a network of over 150 dealers and 31000 retail outlets across the state
.
Navid Rashid, Chief Operating Officer, Gujarat said, "The launch of MTS services in Gujarat will provide mobile customers the access to our nationally successful ½ paisa per second tariff plan. This is bound to result in huge savings for mobile customers in the state. In-addition to an unmatched tariff, our focus is also to provide a world class customer care service and add more value-for-money for customer through innovative products like Recharge Booster, where we give 25% extra talk time with every subsequent recharge for a year. I am confident, mobile users in Gujarat will find our offering extremely appealing."
MTS mobile users in Gujarat can enjoy the benefit of 'Timeage'. This concept enables MTS customers to derive best mileage for the money invested in mobile services and handset bundled offers. For e.g., a recharge of Rs 100 done by an MTS mobile user would last for 67 days as compared to just 32 days being offered by any other operator (under standard talking conditions – 4.1 minutes a day). Additionally MTS customers can also avail the added advantage of 25 % extra talk time with the First Recharge (FRC) of Rs 55 on all future recharge vouchers valid for a year.